---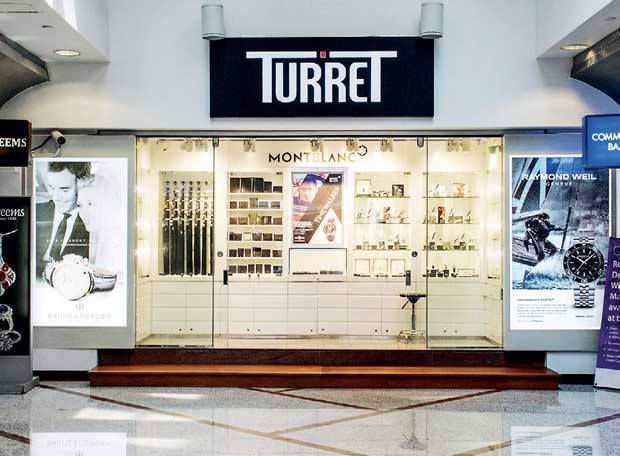 Turret is today a designer store catering to the high-end customer for luxury watches, writing instruments and leather accessories.


Now the Turret chain boasts an exclusive outlet at the World Trade Center's third floor with easy access to all of the city's up-market executives, businessmen and corporate honchos. This all new outlet which opened earlier this year features the renowned luxury brands Montblanc, Baume and Mercier and Raymond Weil side by side.

Turret has been awarded 'sole authorised retailer' status for these world famous brands, which consequently makes Turret the only chain of stores in the city to sell all three brands under one roof to the country's quality and brand conscious customers.

Montblanc as everyone knows is a luxury brand with German origins that dates back to 1906. It is renowned for exquisitely handcrafted writing instruments, timepieces and accessories exclusively for men. The iconic Montblanc emblem is a symbol of excellence - the very pinnacle of luxury writing instruments, timepieces, and leather products.

Baume and Mercier is the seventh oldest watch brand in the world and is artfully crafted in Switzerland, in the Swiss Jura. Baume and Mercier timepieces are handmade using high quality materials and contain unique designs renowned the world over.

Also founded in Geneva in 1976, Raymond Weil is one of the last remaining Swiss independent family-owned and family-operated watchmaking companies. With music having always been the brand's source of inspiration, Raymond Weil is well-known for its watchmaking excellence, creative design and high quality standards.

At the flagship store located at 64, Dharmapala Mawatha, Colombo 3, Turret houses its state-of-the-art service center which is fully equipped to provide all repair and maintenance for Swiss brand watches. Built to be on par with the global standards, all equipment for the center has been imported from Switzerland. Thus, it is able to conduct repairs on any top range luxury brand of watches.

Now when you enter the World Trade Center's large foyer on Level-three and turn right passing the coffee shop and banks, the Turret outlet will come into view at the far end of the corridor, waiting to serve the high-end, businessman shopper with a dazzling collection of luxury items that will leave an indelible impression.