---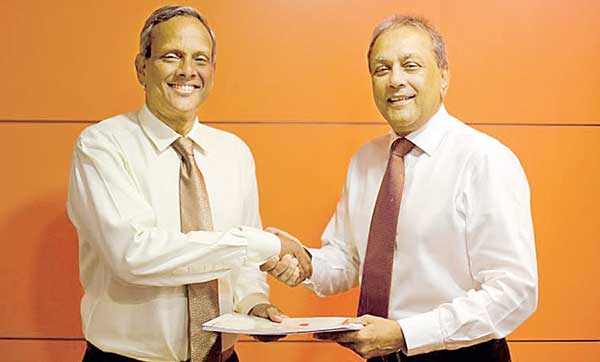 Trade Promoters (Pvt.) Ltd Managing Director Anomal de Soysa exchanging the signed contract with Hemas Holdings Director Abbas Esufally
Trade Promoters (Pvt.) Ltd, the local distributor for Schindler in Sri Lanka, has been awarded a large contract to supply 18 elevators to Anantara Peace Haven Resort Tangalle and Anantara Kalutara Resort, further increasing market share as the elevator of choice for luxury hotel projects on the island.

Anantara Peace Haven Resort Tangalle (152 rooms and pool villas) is hidden on a rocky outcrop along a secluded stretch of Sri Lanka's southernmost coastline and is set amidst a 42-acre coconut plantation. Schindler has completed the installation of five Schindler 3300AP elevators, one of the many mobility solutions under Schindler's low-rise category.

Ingeniously designed and flexible to install, the elevator was chosen to be fitted with a machine room-less design that saves space to cater for more architectural flexibility. The advanced Traction Media and small sized controller saves further space requiring only a small shaft size to install the elevator, which in turn allows for more design freedom.

Anantara Kalutara Resort (141 luxury rooms, suites and pool villas) is located on a secluded beachfront setting along Sri Lanka's southwest coast, only an hour away from the excitement of Colombo. Thirteen elevators are currently under installation, in preparation for the opening of the resort on July 1, 2016.

Once again, Hemas chose the Schindler 3300AP model, adopting a gearless motor that is 40 percent more energy efficient as compared to a conventional geared motor. It also has an optimised stand-by mode where lights and ventilation are switched off and the drive, controller and door drive power consumption is reduced when not in use. This leads to low power consumption amongst other features.