---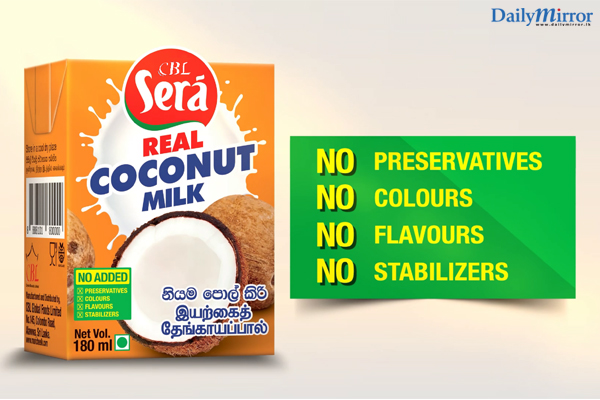 As our lives become increasingly fast-paced, we tend to hunt for and resort to a more convenient and less time-consuming alternative for every aspect of our lives. For home-makers, housewives, working moms, and even professional cooks, this means cutting-down on tedious and arduous processesin the kitchen where possible. However, while these convenient dietary alternatives save us much time and energy, most of them also force us to compromise on the wholesomeness and authenticity of their natural/traditional counterparts. Combining the best of both worlds, Sera Coconut Milk is a refreshing alternative to traditional coconut milk, which is not only pure and authentic, but also extremely convenient, filled with natural goodness, and easy to cook with.
Stemming from Ceylon Biscuits Limited's consistent commitment to delivering authentic products, Sera, a coconut milk which is packed with the natural goodness of actual coconuts,is the ideal alternative for modern families that are seeking dietary alternatives that are tasty and wholesome. With an element of strong backward integration in its value chain, Sera sources only the best quality coconuts nurtured and hand-picked by local farmers. The all-natural formula which contains only water and fresh coconut extracted from shelled kernels, has the exact same taste of home-drawn coconut milk and is devoid of any artificial additives, preservatives or flavourings.
The authentic taste of Sera Coconut Milk is owing to its distinct manufacturing process, which employs cutting-edge technology coupled with specialized, internationally endorsed production methods.The process involves a clean and complete separation of the kernel from the shell, which ensures that the formula retains its original taste and is free of any aftertaste of shell remnants.The extracted coconut milk then undergoes an Ultra Heat Treatment process, which purifies the coconut milk and removes any micro-organisms that may be present in the formula. Thereafter, the coconut milk is packaged aseptically in convenient 180ml packs, employing steam infusion coupled with tetra-packaging, which helps to preserve the product's natural flavour and aroma. This meticulous process by which Sera is manufactured ensures that the product offers optimal value for money, and most of all, that it is a safe, healthy and delightful alternative for the entire family.
Moreover, Sera's even consistency and texture serve as a refreshing step forward from processed coconut powder formats that not only harbourun wanted doses of artificial additives and preservatives, but alsogive rise to lumpy suspensions upon dilution.Sera Coconut Milk promises every ounce of nutrition, taste and wholesomeness present in original coconut milk, whichis universally regarded as a rich source of essential fats, vitamins and minerals.
Sourced and produced with the wellbeing and convenience of modern Sri Lankan families in mind, Sera Coconut Milk serves a wholesome and efficient substitute to coconut milk that has been drawn using the tedious traditional method of cracking and scraping a coconut. Its certified naturalness, coupled with its genuine and fresh taste that satisfies even the most discerning palate is what makes Sera a much-loved brand across the island and beyond.