---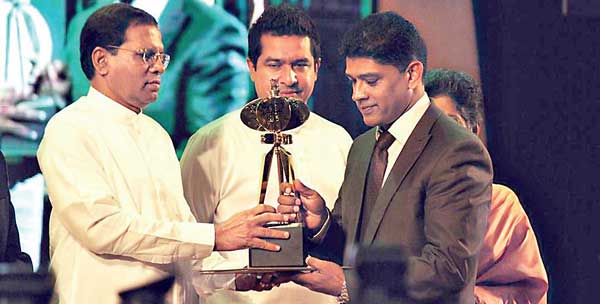 Tharanganee Garments CEO Rukmal Fernando receiving the award from the President
The 20th Presidential Export Awards Ceremony organized by the Sri Lanka Export Development Board (EDB) was held under the patronage of President Maithripala Sirisena on August 9 at the Bandaranaike Memorial International Conference Hall (BMICH).

The Presidential Export Awards (PEA) initiated by EDB in 1981 is the most prestigious award for exports in Sri Lanka and is presented to exporters who have made a significant contribution to Sri Lanka's exports.
At this year's ceremony, Tharanganee Garments (Pvt) Ltd (TG) was able to bag the "Best Emerging Exporter Award for the year 2014" which was categorized under the most prestigious special overall awards.Mr.Rukmal Fernando, CEO of Tharanganee Garments Ltd, said''We are delighted to be a part of this journey having being recognized as the best emerging exporter at the prestigious export awards for the first time.This is a tribute to our people for their continuous commitment and hard work, and we're confident to thrive in similar recognitions in the future.'' With years of experience and business acumen, Fernando was the brain behind the company's immense turnaround in early 2013 when he took over as CEO and has been in the forefront of its strategies and performance efficiencies.

Tharanganee Garments (Pvt) Ltd was established in the year 1984 and is a BOI approved company. It is one of the most successful textile manufacturers in Sri Lanka; a company with a great potential in the field of garment-manufacturing. The company has acquired a versatile production chain to cater to flexible orders in shorter lead-time that assures the perfect blend of quality and efficiency.
Over the 30 years of accomplishment, Tharanganee Garments (Pvt) Ltd has expanded its capacity, developed a skilled workforce and introduced integrated technologies to remain globally competitive. It has a healthy mix of buyers scattered across Europe and Russia. Furthermore, TG is in the process of exploring business opportunities in Canada and Australia. The strategy is to secure a considerable market share in Canada and Australia and expand on business volumes in the next couple of years.