---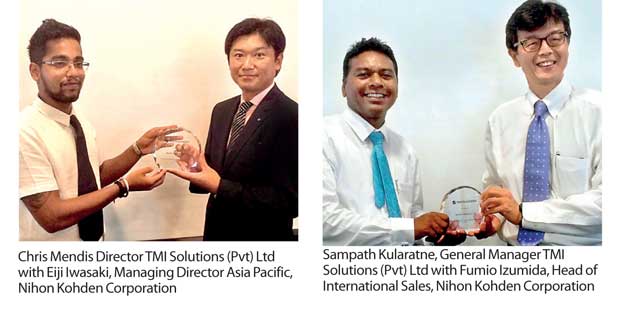 TMI Solutions (Pvt) Ltd – the exclusive distributor for Nihon Kohden Corporation – Japan stole the lime light at the annual distributor conference of Nihon Kohden Asia Pacific Distributor conference held at Cebu Islands Philippines on the 5th and 6th May.
TMI Solutions won the "Best growth award for Neurology products", "Best sales growth for Defibrillator products", "Runner up for Patient Monitors" and the "Best growth and most exemplary distributor award" at this year's award ceremony.
This year's achievements for TMI Solutions was a significant achievement having being appointed as dealer only 02 years back for Sri Lanka and later with the addition of Maldives. With the success achieved by TMI, Nihon Kohden Corporation decided to consolidate the operation of Nepal also under the same Sri Lankan distributor TMI Solutions from this year onwards. The General Manager for TMI Solutions Sampath Kularatne accepted the awards from Mr. Fumio Suzuki - CEO of Nihon Kohden Corporation.
Soon after the distributor conference the newly appointed head of International sales of Nihon Kohden Corporation Fumio Izumida visited Sri Lanka accompanied by Managing Director of Nihon Kohden Asia Pacific region Eiji Iwasaki. The high profile visit's signifies the importance of the Sri Lankan market for Nihon Kohden and placing both Maldives and Nepal under the management of TMI Solutions shows the trust Nihon Kohden Corporation has placed in the Sri Lankan Management team of TMI Solutions (Pvt) Ltd. TMI Solutions is a member of PLC Holdings International. PLC Group of companies is headed by
Chrisantha Mendis.