---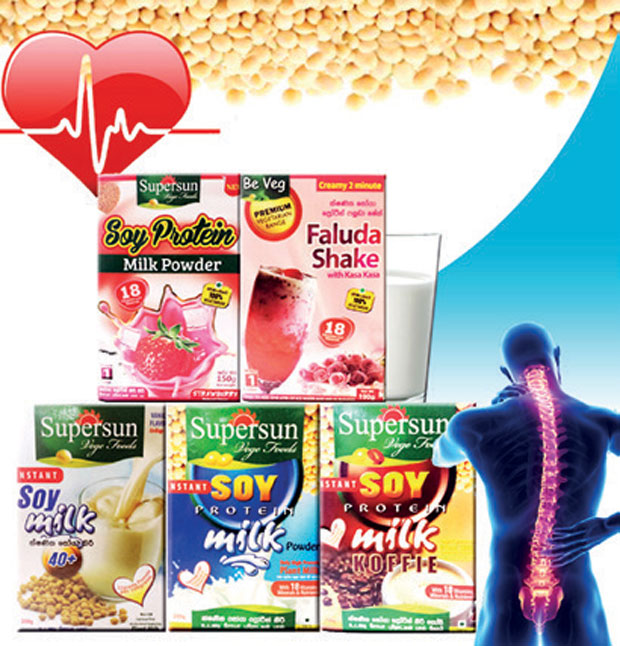 Sujan International has introduced new soya products to the Sri Lankan market, ranging from strawberry soy protein milk, vanilla soy protein milk, soy protein coffee, soy protein faluda shakes and even one-minute soy oat sesame breakfasts, a healthy convenient option for all ages.

Soy protein milk contains all the amino acids. The body assembles these amino acids into new proteins, including antibodies, essential for immune system function. The structural proteins hold tissues together, and enzymes help cells produce energy. Each cup of soy protein milk provides nearly seven grams of protein. Soy protein milk helps boost calcium and iron levels, assisting to maintain dense and strong bone tissue. Without it the body draws on your bones as a source of calcium. A cup of soy protein milk has a calcium content of 330mg, the daily requirement being around 700 mg. The iron in soy milk helps red blood vessels function properly ensuring that all the tissues throughout the body get the oxygen they need. A serving of soy protein milk provides nearly 3.3mg of iron. Soy protein milk provides B complex vitamins, more than the daily requirement. The required amount is 2.4mg per day.

Soy protein improves the lipid profile significantly, lowers bad LDL cholesterol levels and increases good HDL cholesterol levels, strengthening blood vessel integrity as well. Omega 3 and omega 6 in soy bind to the blood vessels to defend cells from free radical attacks and cholesterol deposits. Soy protein milk promotes weight loss, prevent cancers and osteoporosis.

After the age of 40, it is good to go for a plant milk which is cholesterol free to maintain overall health and wellness safeguarding heart health, kidney health and bone health, while contributing for memory power which enhances one's performance in work and is a grave problem in old age. Bone health and memory power greatly apply to the young generation.

The only plant milk available in this modern day is soy protein milk, even though many nut milks are available with rice milk in Asia. This soy protein milk tastes just like dairy milk in tea and coffee. Plant milks do not contain antibiotics, and no hormones are involved in commercial production like in many dairy milk products.