---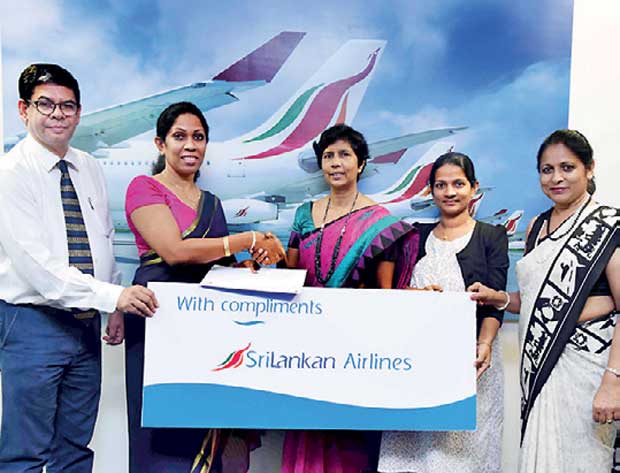 From Left: SriLankan Airlines Product Development Senior Manager Senaka Bandaranayake, Cabin Services Acting Head Buddhika Manage, Lucky Winner Dr. Chandima Tilakaratne, Senior Product Development Executive Erandi Malaviarachchige and Product Development Manager Ramani Jayasinghe
SriLankan Airlines, the national carrier and Oneworld member airline, held its monthly draw to select the lucky winner from those who provided feedback by taking part in the international
passenger survey.

At the draw, Senior Lecturer Dr. Chandima Tilakaratne emerged as the lucky winner for the month of June. She was awarded a return air ticket to a destination of her choice, directly
operated by the airline.

"It was a pleasant surprise to learn that I have been selected the winner of a return ticket to any destination within SriLankan Airline online route network. This would contribute towards my travels overseas to enhance my academic career by attending a conference or a training programme. I feel that I am very lucky," Dr. Tilakaratne commented on receiving the prize. Since 2011, the airline has been conducting continuous passenger surveys across its network to obtain feedback on customer experience and satisfaction. Having started with a paper-based survey form translated into eleven languages, these surveys have evolved into electronic platforms, enabling the airline to capture feedback on iPads, SriLankan App, the web, from kiosks and from individual passenger screens on board the aircraft. A passenger is eligible for the monthly draw by answering all compulsory questions in the questionnaire.

While portraying the inherent warmth and hospitality of the country, SriLankan Airlines continues to enhance its product and service offering to create a memorable travel experience for its passengers.
Recently the airline was awarded the Four Star Rating, major regional airline category by Airline Passenger Experience Association (APEX) in its first ever airline industry rating programme solely based on passengers feedback. The other awards include Asia's Cultural Airline and Asia's Leading Airline to the Indian Ocean at World Travel Awards 2017.