---
By Chandeepa Wettasinghe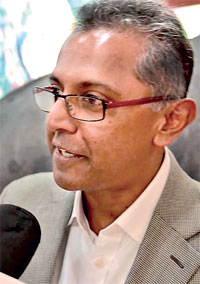 Sri Lanka will be able to achieve its 4.5 million tourist arrival target by 2020 despite recent trends of declining growth, an industry leader said.

Sri Lanka missed its 2 million arrival target last year, attracting just 1.8 million tourists.

"We will probably grow at around 15-20 percent and be able to achieve the 4.5 million arrival target," Tourist Hotels Association of Sri Lanka President Hiran Cooray said.

He noted that the tourist growth will mainly come from regional markets such as India and China.
Sri Lanka's Tourism arrival growth has seen a gradual decline from 26.7 percent in 2013 to 19.8 percent in 2014, down to 17.8 percent in 2015, in spite of the Chinese market growing exponentially in triple digits.

"That's because we saw huge numbers after the end of the war," Cooray explained the fall in year-on-year growth.
To reach the 4.5 million target, tourist arrival figures would have to grow at a 20.11 percent compounded annual growth rate (CAGR).

The current government seems to have endorsed the past regime's efforts in tourism by accepting the latter's targets and heavily relying on trade show related promotions campaigns.

A recent report noted that Sri Lanka has the potential to be a US$ 15 billion tourism destination compared to the current US$ 2.86 billion, but that the current tourism promotions, services and products mix must be changed.

Cooray expressed little worry over the country's tourism promotions, despite constant criticism from many parties highlighting a lack of strong promotions, saying that all city hotels have been fully booked this month.

This could possibly be due to the Chinese New Year holidays bringing in more tourists from Sri Lanka's 2nd biggest market.

The country's largest leisure operator John Keells Holdings however has been posting negative profit growths on its listed 5-star city hotels since March 2013.

A recent company statement said that it had been experiencing low occupancy levels.

One of the factors contributing to the low occupancy levels is the increase in informal accommodation, which is taking advantage of the minimum room rate city hotels are bound to.
The supply of star-class rooms is also on the rise, compounding the problems.

Since Cooray's Jetwing Group is opening a city hotel soon, he was inquired as to his opinion on the highly debated topic.

"Our association feels that the room rates should be maintained for the next 2 years and then be taken off. Otherwise the prices will crash again," he said.

Certain parties have expressed disappointment over artificially maintaining the rates higher than similar destinations in the Asian region. They have pointed out that Sri Lanka may be losing out on the MICE (Meetings, Incentives, Conferences and Exhibitions) market to regional competitors due to higher room rates in Colombo.

MICE makes up around 65-70 percent of the Colombo city hotel market.

John Keells also said that it has seen lower volumes of MICE tourism recently.