---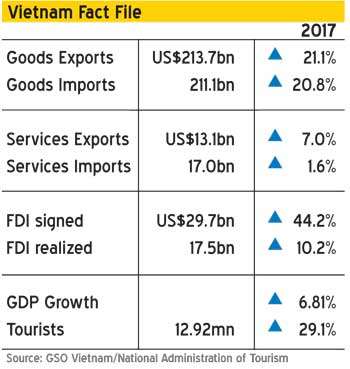 Sri Lanka is strengthening relations with Vietnam and the Association of South East Asian Nations with Prime Minister Ranil Wickremesinghe due to address a World Economic Forum regional meeting in Hanoi shortly, officials said.

The successful completion of bilateral political consultations in February 2018 acted as a catalyst for future enhancement of relations Plantations Industries Minister Navin Dissanayake said addressing diplomats in Colombo at an event to mark the National Day of Vietnam, which fell on September 02.

"The bilateral relations between Sri Lanka and Vietnam are multifaceted and encompass the economy, agriculture, fisheries and education," he said. Vietnam's Ambassador to Colombo Pham ThiBich Ngoc said there was an opportunity to elevate bilateral relations to a higher level and co-operate in regional and international platforms for peace and stability.

Prime Minister Ranil Wickremesinghe had accepted an invitation from Vietnam to address the World Economic Forum - ASEAN which will be held in Hanoi from 11 to 13 September, the second time in as many months that he is participating in a forum in the country.
"It will be an opportunity to discuss innovative and creative ideas and strengthen regional economic relations with ASEAN," Minister Dissanayake said .
Sri Lanka had established diplomatic relations with Vietnam in 1970.

Last week Prime Minister Wickremesinghe was in Hanoi to address a maritime forum, the Indian Ocean Conference 2018.

Vietnam has been integrating with the world for several decades since the ĐiMi (renewal) reforms started in 1984. "Vietnam today is a highly open and diverse economy," Ambassador Ngoc said."Our Gross Domestic Product growth has been sustained at a high rate. The living standards of the people have been significantly improved."

Vietnam's economy grew 7.08 percent in the first six months of the year, data from the General Statistics Office of Vietnam reported. In 2017 the economy grew 6.8 percent. Vietnam is a chosen destination for foreign investment (FDI) and tourism with Sri Lankan visitors also increasing to the country Ambassador Ngoc said.
Up to August 2018, US$ 13.4 billion of new FDI projects had been signed with Japan accounting for US$ 5.8 billion and Korea US$ 5.8 billion. Existing companies had applied to invest a further US$ 5.5 billion totaling US$ 19.0 billion.

Realized investments up to August 20, was US$ 11.25 billion, up 9.2 percent from a year earlier.

In 2017, foreign companies applied to invest US$ 29.5 billion in Vietnam and realized inflows were US$ 17.5 billion.

Several Sri Lankan firms had already invested in Vietnam, including in apparel.

Minister Dissanayake said Sri Lanka had a stable investment environment and Vietnamese firms could look at sectors like tourism.

In the first 7 months of 2018, Vietnam welcomed 9.08 million tourists, up 25 percent from a year earlier with 1.9 million coming in July alone. Sri Lanka received 2.1 million foreign visitors in the 12-months to December 2017. In 2017 Vietnam received 12.9 million visitors, up 29 percent from a year earlier. Up to August exports from Vietnam grew 14.5 percent to US$ 155.4 billion and imports grew 11.5 percent to US$ 152.6 billion. In 2017 exports grew 21 percent to US$ 213 billion. Vietnam has a population of 93.7 million people.