---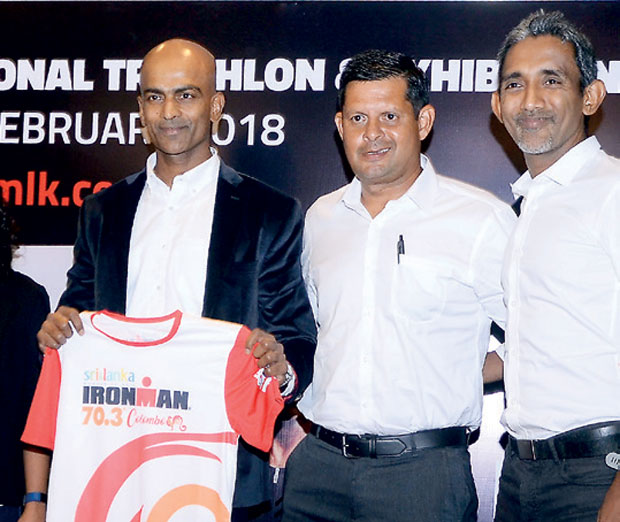 From left: Pro Am Serendib Director/Event Director Rajan Thananayagam, Pro Am Serendib Director Julian Bolling, Pro Am Serendib Director Yasas Hewage
Pic by Waruna Wanniarachchi
The first Ironman event in South Asia would be held from February 22-25 in Sri Lanka, with the Ironman 70.3 Colombo international triathlon and exhibition set to generate US$ 3 million in tourism earnings for the country and haul in high net worth influencers, the event organizers said.

"Participants of Ironman are fairly mature. They are CEOs, doctors, lawyers and entrepreneurs, and the average age is 39. So they are well into their careers. They will bring their families to Colombo. So it will generate a minimum of US$ 3 million in revenue in one week," Pro Am Serendib Director Yasas Hewage said.
At an event held yesterday at Shangri-La, Pro Am Serendib Director/Event Director Rajan Thananayagam said that the Ironman is not just a triathlon, but a lifestyle, to balance life with a tough corporate environment.

Hewage said that 880 racers would take part in Ironman 70.3 Colombo, and the only factor keeping the participatory level below 1,000 was the event coordinators having to take into account the safety of the participants.

Over 500 volunteers, 300 police officers and Sri Lanka Navy assets would be deployed to ensure the safety of the triathletes.

The race, which would see the triathletes cover 70.3 miles, would start at the Galle Face Green on February 25, starting off with a 1.9km swim, followed by 90km of cycling, and a 20.1km running course.

The total number of tourists coming to Sri Lanka would exceed 3,000 when taking into consideration the families of the participants.

"Ironman Colombo is a sports vacation," Thananayagam said.

The top six foreign participants for Ironman 70.3 Colombo are 133 triathletes from India, 76 triathletes from the UK, 47 triathletes from France, 34 triathletes from Australia, 30 triathletes from USA and 26 triathletes from Singapore. Triathletes would also arrive from as far away as Brazil and Argentina.

Thananayagam went on to say that the organizers were aiming to attract at least 20 percent of the participants from Sri Lanka, and exceeded this target, with local triathletes comprising of 26 percent of the total racers. Ironman 70.3 Colombo triathletes include a Vedda and the visually impared.

Overall, participants would be arriving from 26 countries, and 81 percent of the participants would be booking hotels.

Hewage said that Sri Lanka should branch out from its core tourism offerings of culture, heritage and beaches by exploiting the global sports tourism market.

"If we can multiply this by 52 (weeks) with Sri Lanka taking sports tourism to the maximum, it'll be more than gems," he said.

He added that holding events such as Ironman in Colombo would help boost the city's profile to rival that of New York and Paris.

Sri Lanka had been struggling to attract tourists most of the months in 2017, before the lull was broken last month.