---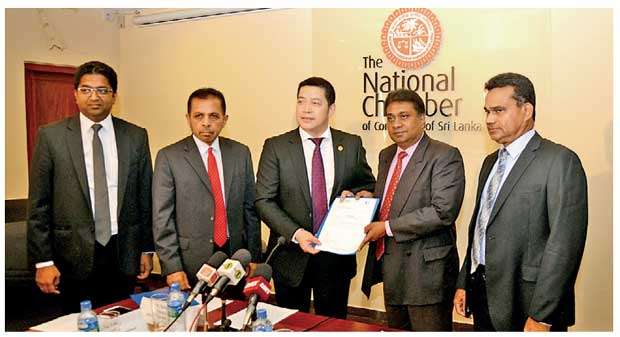 From left: Hairong Investments International Pvt Limited Director Janaka Basuriya, Hairong Investments International Pvt Limited, Managing Director, Dr. Palitha Kohona, Hairong Investment Group Co., Ltd., Chairman Pan Liang, National Chamber Of Commerce President Sujeeve Samaraweera, and National Chamber of Commerce Secretary Deepal Nelson
Pic by Waruna Wanniarachchi
Sri Lanka may get its largest convention centre through Chinese investments, which would potentially become one of the main platforms to host Belt and Road Initiative (BRI) related events.

Speaking to reporters during a ceremony held to award the Belt & Road Industrial and Commercial Alliance (BRICA) membership letter to the National Chamber of Commerce (NCC), yesterday, Hairong Investment Group Co., Ltd. Chairman Pan Liang said the proposed convention centre could potentially become the convention centre for BRI by attracting regional countries to hold their BRI related events and meetings.
He said Sri Lanka's strategic locations were the main reason to consider the initiative while suggesting that it will help Sri Lanka to increase its influence in the world.

Hairong Investments International Pvt. Limited, Managing Director, Dr.Palitha Kohona revealed that Hairong is currently looking for land blocks in Colombo for the proposed convention centre and they have already earmarked three land blocks. However, Dr. Kohona noted that the proposed convention centre needed to be pitched to the China Federation of Industrial Economics (CFIE), the sponsor of BRICA in order to attract funds to build the centre.

Comparing the proposed convention centre to a harbour, Dr. Kohona stressed that it needs to attract events in order to become a main centre for BRI events. National Chamber of Commerce (NCC) and Hairong are also organising a Sri Lanka Economic and Investment Conclave 2018 (SEIC), a business matchmaking event at the Sri Lanka Embassy premises in Beijing on 18 September, this year. About 50 Sri Lankan companies are expected to participate in the event and according to Liang, Chinese companies have also expressed their keen interest to take part in the event. Dr. Kohona said although Sri Lanka has attracted US $ 6 billion investment for various projects under BRI, compared to other BRI participants such as Pakistan, Ethiopia, which have attracted US $56 billion and US $26 billion respectively, Sri Lanka's capitalization on BRI remains lower.

He noted that China has committed to invest US $4 trillion-8 trillion in BRI related projects presenting large scale opportunities for Sri Lanka. However, he emphasised that Sri Lanka should carefully negotiate investments with China in order protect national interests as well as to maintain neutral status in the region.NCC was also officially invited to participate to a BRICA conference which will be held on the 18th and 19th October this year in Istanbul, Turkey. BRICA currently has 25 industrial and commercial organizations from 23 countries of Asia, Europe, Middle East, Africa and Latin America. NCC is the only business organisation representing Sri Lanka in BRICA.(NF)