---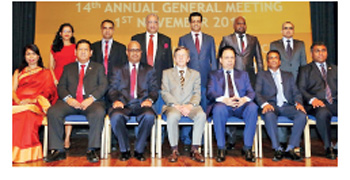 The 14th Annual General Meeting (AGM) of the Sri Lanka – Russia Business Council (SLRBC) of the Ceylon Chamber of Commerce was held recently, electing Priyantha Hapuarachchi as President for 2017/2018 who is the Chief Financial Officer at South Asia Textile Industries Lanka (Pvt) Ltd.
Buddhapriya Ramanayake, Director, Mos Lanka Investments (Pvt) Ltd and Buddhika Liyanage, Director, Avian Technology (Pvt) Ltd were elected as Vice Presidents.

Russian Ambassador Yuri Materiy graced the meeting as a Chief Guest while the Ambassador of Sri Lanka to Russian Federation Dr. Saman Weerasinghe was the Guest of Honour at the AGM.
Nine other companies were selected to serve in the Executive Committee of the Council. Access International Projects (Pvt) Ltd, Freight Links International Pvt Ltd, Galle Face Hotel Management Company, HVA Lanka Exports Pvt Ltd, Imperial Teas (Pvt) Ltd, Maharaja Organisation projects (pvt) Ltd, Nature's Beauty Creations Limited, Regency Teas (Pvt) Ltd and Rhino Roofing Products Limited are the companies selected.

While welcoming the guests Isuru Samarasinghe, the President for the last three years for the Council, shared about the activities of the Council to-date.

In his speech, Samarasinghe made special mentionabout the business delegation to Moscow which took place on March 2017. The 25-member delegation visited Moscow and the mission was organized in conjunction with the official visit of President Maithripala Sirisena to the Russian Federation which coincided with 60 years of diplomatic ties between Sri Lanka and Russia.

Yuri Materiy said about the establishment of the Sri Lanka- Russia Intergovernmental Commission on economic and technological cooperation in his peach and added it can serve as an example of the great cooperation between two countries.

The envoy also pointed out that the political background of both countries are in favour for the development of bilateral economic relations and it was ratified at the Second Session took place in Colombo.

In year 2016, exports from Sri Lanka to Russia amounted to US $ 181.98 million and the imports from Russia to Sri Lanka were recorded at US $ 199.73 million. The total number of tourist arrivals in 2016 was 2,050,832 compared to 1,798,380 in2015. The total arrivals from the Russian Federation decreased from 61,846 in 2015 to 58,176in 2016.