---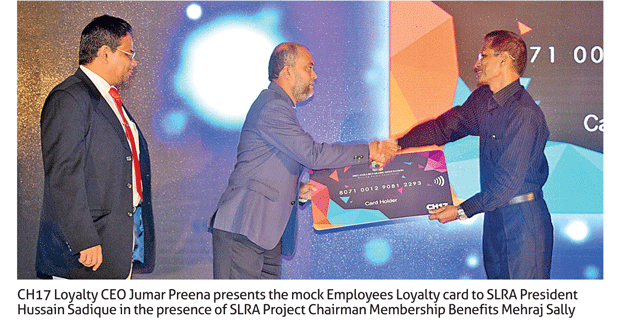 A loyalty programme to recognize and reward the employees and staff in the retail sector was launched by the Sri Lanka Retailers' Association (SLRA) recently.

This programme is in appreciation of the services rendered to the retail industry by all levels of the workforce and for their contribution in making this sector a dynamic one.

A prototype of the Privilege card was unveiled to the media and gathering at the launch of the first-ever Sri Lanka Retail Forum 2017, which was a highlight of the evening's ceremony.

CH17 Loyalty CEO Jumar Preena presented the mock card to SLRA Chairman Hussain Sadique as a symbolic gesture marking the releases of the SLRA Privilege card.

"The employees of the SLRA member companies are entitled to use the Privilege card for their personal use. The retailers who are affiliated to the SLRA will be requested to recognize and provide benefits such as upfront cash discounts to the card holder on a year round basis as an entitlement for an extra-ordinary privilege from the industry they work for," SLRA Project Chairman Membership Benefits Mehraj Sally spearheading this programme said.

Adding further, Sadique said, "To serve the emerging holistic retail customer in a rapidly changing retail environment, a focused, motivated and collaborative workforce is considered essential. Towards this, a loyalty programme empowering the internal customer is timely and essential. The CH17 loyalty card is expected to fulfil this future retail requirement."

CH17 Loyalty will ensure participation of diverse retail segments such as food, clothing, footwear, leisure, dining, wellness, telecommunications services, hospitals, in-bound/out-bound travel, household goods, electronics and electrical goods, hardware items, groceries and many more.
"We are planning to introduce a single card concept for all retail shopping to the market, which is accepted by multiple retailers, similar to the bank card operations for retail shopping," CH17 CEO Jumar Preena explained.

"The SLRA membership comprises of leading retailers of consumer brands with islandwide networks and this influential network is the ideal platform to introduce such a product," he added.
The SLRA Secretariat is the Ceylon Chamber of Commerce.