---
Diversified conglomerate Softlogic Holdings PLC is looking to expand its business interests beyond Sri Lankan shores while evaluating options to reduce its gearing, a top official said.
The group is looking to expand its healthcare business under its Asiri hospitals chain to the Asian market and the insurance business to the African markets.

"Our vision has expanded beyond our shores, and we are likely to commence operations of our successful sectors in the Asian and African markets to replicate our success in
Sri Lanka.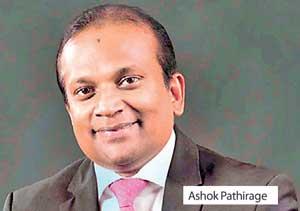 There is significant scope for expanding our internationally certified healthcare services in to neighbouring countries with positive outcomes while African markets demonstrate potential for insurance products," Softlogic Holdings Chairman/Managing Director Ashok Pathirage told shareholders in the firm's FY2018/19 annual report.

"Understandably we are excited by our next growth phase as we seek to position the Softlogic group as a leading player in the region in selected sectors," he added.

Softlogic group owns three hospitals in Colombo and two others in Kandy and Galle with a total capacity of over 750 beds.

For the year ended March 31, 2019, the group's healthcare business, which also includes laboratory and diagnostics businesses, reported an operating profit of Rs.3.2 billion, down 7 percent year-on-year (YoY) on revenue of Rs.13.5 billion, up 12 percent YoY.
The financial service sector of the group, dominated by its life insurance business under Softlogic Life Insurance PLC, accounted for about 18 percent of the group's top line and posted a 12 percent growth in gross written premium (GWP) in 2018/19.

The operating profit of the business segment, which also includes a listed finance company and a stockbroking firm, fell 4 percent YoY to Rs.1.7 billion on revenue of Rs.13.6 billion, up 23 percent YoY.

Meanwhile, Pathirage said the group is evaluating options to reduce its debt, which is at higher levels relative to its peers, which he termed as "part and parcel" of the group's risk profile.

"We are evaluating several options for reducing debt and are likely to deploy several strategies to achieve a satisfactory outcome to improve the financial gearing of the group," he said.
During last two years, the Softlogic raised equity to pay down its debt as the group went on a huge shopping spree, which was mostly funded by debt.

During the financial year ended March 31, 2018, Softlogic raised Rs.3.1 billion via a private placement and another Rs.3.9 billion in the following year via a rights issue to settle debt.
The group's finance cost in FY2018/19 rose 20 percent YoY to Rs.7.1 billion while the net finance costs rose 18.4 percent YoY to Rs.5.7 billion.

As at March 31, 2019, the group had Rs.9.9 billion interest bearing borrowings under current liabilities and Rs.25.1 billion interest bearing borrowings under non-current liabilities.