---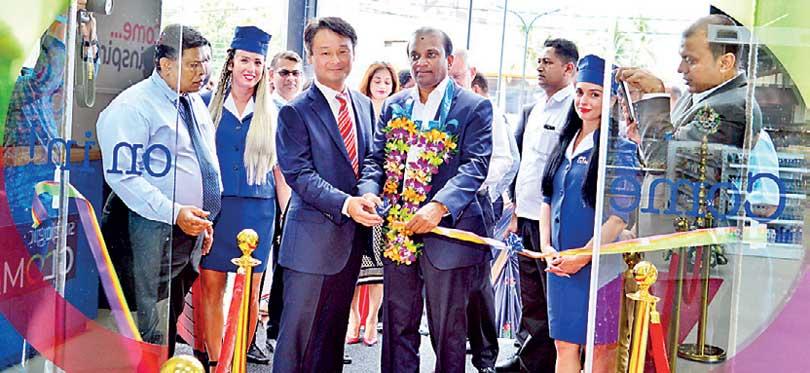 Softlogic Holdings PLC Chairman Ashok Pathirage cutting the ribbon alongside Kevin SungSu, Country Manager Samsung Electronics Sri Lanka cutting the ribbon to unveil Softlogic Glomark Kottawa outlet
Following the establishment of its credentials in the modern trade market, Softlogic Glomark, Sri Lanka's first inspirational global supermarket, launched its latest outlet in Kottawa on July 4 with a fusion of international brands and specially selected exclusive local products.

This widest selection includes grocery items, butchery, baked goods, cheese, essentials, furniture and electronics sourced from exclusive local and the best of the brands from around the world delivering freshness and high quality for a one-of-a-kind experience.

The Kottawa outlet is Glomark's third larger format presence in Sri Lanka with the other strategically placed outlets in Delkanda and Kurunegala, which is complimented by another two Softlogic Glomark Essentials outlets, the smaller, express format at Asiri Central Colombo and Asiri Kandy Hospitals. Glomark was launched by Softlogic Supermarkets Pvt Ltd, a subsidiary of Softlogic Retail PLC, under the ultimate parent group, Softlogic Holdings PLC.

As a consumer-focused business, it has over 100 international brands marketed through one of the country's strongest distribution channels.

Softlogic Glomark Kottawa is located next to the entrance of the Southern expressway, in order to give an elevated experience and world class convenience to all the commuters and the people in and around Kottawa, Homagama areas.
Commenting on the Kottawa outlet opening, Ashok Pathirage – Chairman, Softlogic Holdings PLC said, "The expansion of Glomark to Kottawa is an exciting event where we take the globally inspirational supermarket experience to a great, far more diverse Sri Lankan supermarket shopper, that cuts across multiple social strata's, not only because of the geography, but also because of the socio-economic importance the area brings in," Softlogic Chairman Ashok Pathirage said.

"The customer experience will further be enthralled with the inclusion of a fully-fledged consumer electronics range powered by Softlogic MAX, a master piece selection of furniture by Softlogic Furniture, a unique bakery range and a one-of-a-kind hot food variety that will give a fusion twist.

"Our next endeavour is to open Glomark Essentials this year Orion City business park," he added.