---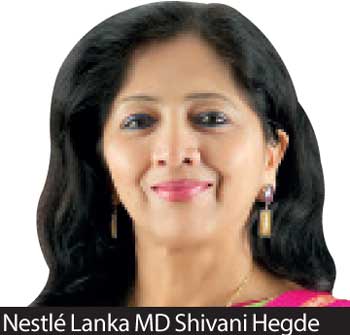 Nestlé Lanka PLC put up a strong performance for its December quarter (4Q17), but saw its full year performance dented by sluggish market conditions and natural disasters.

For 4Q17, the company reported earnings of Rs.21.94 per share or Rs.1.17 billion against earnings of Rs.16.01 a share or Rs.887.6 million reported for the corresponding quarter of the previous year.

Sales for the quarter under review rose 15.6 percent year-on-year (YoY) to Rs.10 billion. However for the full year ended December 31, 2017, Nestle Lanka's net profit fell 17.4 percent YoY to Rs.3.63 billion despite sales increasing by 3.1 percent YoY to Rs.37.6 billion.

The company saw a 9 percent YoY increase in cost of sales as result reported a gross profit of 13.3 billion, down 6 percent YoY.
The earnings per share for the fiscal 2017 fell Rs.67.64 from Rs.81.87 in fiscal 2016.

Nestle Lanka share last traded on the Colombo bourse at Rs.1850.

"The severe drought and floods, resulting in weak consumer confidence and decline in consumer demand, adversely impacted results," Nestle Lanka said in an earnings release.

"Growth rates were further eroded by an increase in Value Added Tax, which coupled with unprecedented increase in coconut prices, had a negative impact on profit. Enhanced cost saving measures and a focus on driving efficiencies across the value chain helped in partly mitigating these impacts," it added.

The company said it contributed Rs. 6.5 billion to the treasury as taxes, and Rs. 8.3 billion to the rural economy for procurement of milk and coconut.

Meanwhile, Nestlé Lanka said it initiated an investment of around Rs. 5 billion in early 2017, to expand production capacity for dairy and coconut based products in its Kurunegala factory, which will be funded through a judicious combination of internal accruals and borrowings.

The company in a stock exchange filing said it will be borrowing US $ 12 million in this regard from Nestle Treasury Centre-Middle East and Africa Ltd., a unit of its parent Nestle S.A. in Switzerland.

The filing said the loan will be disbursed in LKR.

The director board has approved an interim dividend of Rs.25 per share on 22 February 2018 and proposed a final dividend of Rs.25 per share for the full year, to be approved at the company's Annual General Meeting on 4 May 2018.

Switzerland-based parent, Nestlé SA, holds a 90.82 percent stake in Nestlé Lanka while Norwegian Central Bank Norges Bank holds 0.82 percent.