---
Piramal Glass Ceylon PLC (PGC), Sri Lanka's only glass bottle manufacturer, saw its December quarter (3Q18) earnings declining amid higher sales costs and slower top line growth, the interim financial accounts released to the Colombo Stock Exchange showed.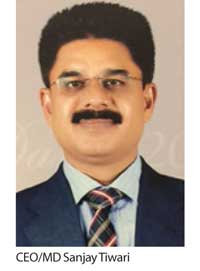 The net profit for the quarter under review fell to Rs.97.1 million, from Rs.202.3 million a year ago, on a flat revenue of Rs.1.98 billion. The cost of sales rose to Rs.1.64 billion from Rs.1.44 billion.
The earnings per share for the quarter deteriorated to 10 cents from 21 cents.

The company in an earnings release said the slowdown in domestic sales continued in the December quarter as well. The domestic sales during the quarter fell 20 percent year-on-year (YoY) to Rs.1.2 billion.

"The dip felt in the overall domestic market since the beginning of the year did not recover during the quarter under review. Due to the increase in levies and taxes, the final products are becoming more expensive.

This results in a decline in consumer demand, which ultimately reflects in the reduction of sales in the food, beverage and liquor segments. Added to this, the impact of extreme weather conditions impacted the sales in the virgin coconut oil and agro chemical segments," the earnings release said.
However, exports showed a commendable 75 percent YoY growth to Rs.729 million.

Meanwhile, for the nine months ended December 31, 2017, PGC saw its profits falling to Rs.251.5 million from Rs.275.7 million a year ago on a flat revenue of Rs.5 billion.

The EPS deteriorated to 26 cents from 29 cents.

The company said for the nine months, domestic sales fell 17 percent YoY to 3.37 billion. However, exports surged 70 percent YoY to Rs.1.63 billion.

"The management has tried its best to channel the extra capacity towards the export market to bridge the gap due to the loss of domestic volumes.

The sales to the USA, Canada, Australia and neighbouring markets showed exceptional increase, which partly helped to shorten the gap. PGC is focussing on developing these potential markets to contract the incremental capacity added in the year 2016/17," the earnings release said.

As at December 31, 2017, India's Piramal Glass Limited held a 56.45 percent stake in PGC while the state-controlled private sector pension fund, the Employees' Provident Fund, held a 9.5 percent stake being the second largest shareholder.

Norges Bank, the Central Bank of Norway, held a 2.93 percent stake being the third largest shareholder of PGC.