---
Announces major expansion plans to furniture business
Plans to increase manufacturing capacity with new factories, additional machinery in pipeline
To grow e-commerce business to supplement retail business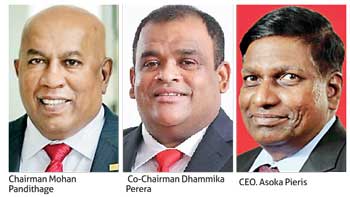 Singer Sri Lanka PLC's profits fell sharply during the quarter ended in December 2017 (4Q17) as the adverse weather and weak disposable incomes hurt the consumer durables giant the most during 2017.

Singer Sri Lanka, which saw a change in ownership in September with diversified Hayleys PLC acquiring the control, reported 49 cents a share or Rs.218.8 million for the quarter, recording a sharp decline of 63 percent year-on-year (YoY).

The Singer share closed 50 cents lower at Rs.41.00 on Friday.

The sales virtually flattened during 2017 as adverse weather inflicted serious damage to the agricultural community – Singer's key market for consumer durables such as refrigerators, televisions and stereo sets.

"The business conditions in 2017 were tough", said Asoka Pieris, Group Chief Executive Officer in an earnings release.
Bulk of these sales occurs through hire purchase via Singer Sri Lanka's licensed finance subsidiary as the installments are serviced from the moneys received from the sale of harvest.

On the other hand, the higher Value Added Tax (VAT) and the higher interest rates that prevailed during the year eroded the purchasing power of the people.

"It should be noted that the consumer durables industry, where Singer is present is more susceptible to market conditions than other industries.
When customer income decreases, the demand for consumer durables is well below that of the general market demand. At the same time when customer income increases the demand for consumer durables is way above that of general market demand. We have seen this oscillation over many years", Pieris noted.

Sales during the quarter under review rose by a modest 5.0 percent YoY to Rs.14.5 billion but the company said after a 4.0 percent decline in revenue in October, sales started ascending recording 6.0 percent and 11 percent growths in November and December, respectively.

On September 15, 2017, Hayleys PLC acting in concert with its subsidiaries bought 61.73 percent in Singer Sri Lanka from Retail Holdings (Sri Lanka) BV for Rs.10.9 billion. As the transaction triggered a mandatory offer, the same parties bought an additional 19.23 percent stake bringing the total control of the company to 80.96 percent.

By December 31,2017, Hayleys and the connected parties held 82.81 percent stake in Singer.

All major foreign institutional shareholders took up the mandatory offer by Hayleys and as a result free float had gone down to 7.7 percent as at December 31.

JB Vantage Value Fund had not taken up the offer and retained 2.5 million Singer shares.

As Singer Sri Lanka battles a tough market for consumer durables, the company is now setting the stage to grow its furniture business, "exponentially with a wider range available to customers in a larger range of showrooms".

Singer already sells in its Singer Mega outlets but the company said it is accelerating the renovation and expansion of its existing outlets to increase the retail space to cater for additional products and brands, particularly furniture. Analysts expect Singer to come up with IKEA type flat-pack furniture with sturdy designs in their showrooms, expanding their product offering to cater to the country's growing middle class. The company also said it would strengthen and enlarge its manufacturing operations with new factories, additional machinery and more advanced technology.

Singer will also strengthen its e-commerce business to supplement its retail business.

Meanwhile, for the 12 months ended in December 31, 2017, Singer Sri Lanka group reported Rs.2.21 a share in earnings or little over a billion rupees compared to Rs.5.65 a share or Rs.2.36 billion profit after tax, on a revenue of Rs.40.7 billion, up 10 percent YoY.

With the amalgamation of the company with Hayleys group, Singer will change its reporting period from January to December to March to April from 2018 to stay consistentwith the parent's financial year. Hence Singer will report 15 months results on March 31, 2018, until it starts its fresh reporting period from April 1, 2018.