---
Consumer durables and electronics retailer Singer (Sri Lanka) PLC posted a net profit of Rs. 531.41 million for the quarter ended December 31, 2016 (4Q16), up 38.02 percent year-on-year (YoY) despite increase in indirect taxation and removal of some tax exemptions.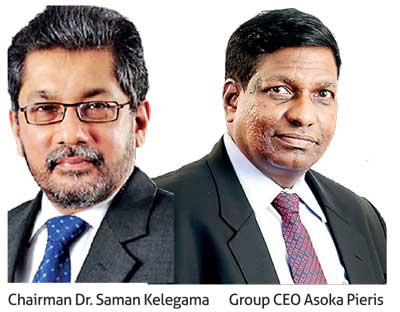 Earnings per share increased to Rs.4.24 from Rs. 3.08 YoY. Shares were trading at Rs. 126.70 at close of trading yesterday. A sub-division of shares by way of scrip dividends is on the cards.
During 4Q16, revenue increased 19 percent YoY to Rs.13.78 billion. Due to a restructuring exercise conducted in January 2016, associate consumer durables manufacturers Singer Industries Ceylon PLC and Regnis (Lanka) PLC were brought under the umbrella of Singer (Sri Lanka).
Cost of sales for 4Q16 increased 18 percent YoY to Rs. 9.80 billion. Net finance costs increased 106 percent YoY to Rs. 437.25 million.
Home appliances remained the top contributor to 4Q16 pre-tax profits with Rs. 286.94 million, up 54.98 percent YoY. Turnover from the segment was Rs. 4.21 billion, up 17.98 percent YoY.
Financial services, which Singer Managing Director Asoka Pieris in recent months said would become the group's main business in the future, grew slowly due to indirect tax increases, with pre-tax profits increasing 1.43 percent YoY to Rs. 182.93 million.
Segment turnover increased 22.41 percent YoY to Rs. 1.40 billion.
Pre-tax profits of IT products and consumer electronics changed to Rs. 154.01 up 78.80 percent YoY and Rs. 90.67 million, down 7.22 percent YoY, respectively, while turnover for the two segments increased 32.72 percent YoY to Rs. 3.51 billion and 6.7 percent YoY to Rs. 2.14 billion, respectively.
The absorption of the manufacturing-heavy subsidiaries as well as factory expansions helped increase the total asset base at the end of the financial year (FY16) to Rs. 42.36 billion from Rs. 32.26 billion at the start of FY16. Net asset value per share increased to Rs. 65.12 from Rs. 47.39 during the same period.
Short-term interest bearing loans and borrowings increased to Rs. 12.54 billion at end-FY16 compared to Rs. 7.04 billion at the start of FY16.
Meanwhile, net profit for FY16 increased to Rs. 2.12 billion, up 84.10 percent YoY with earnings per share increasing to Rs. 16.95 from Rs. 9.21 YoY.
Revenue increased 21 percent YoY to Rs. 46.92 billion, while cost of sales increased 20 percent YoY to 32.04 billion. Selling and administrative expenses increased 17 percent YoY to Rs. 10.19 billion while net finance costs increased 51 percent YoY to Rs. 1.47 billion.
Pre-tax profits from home appliances increased 111.03 percent YoY to Rs. 1.02 billion while turnover increased 21.30 percent YoY to Rs. 15.76 billion.
Financial services pre-tax profits grew 34.96 percent YoY to Rs. 901.37 million while turnover increased 15.09 percent YoY to Rs. 5.37 billion, in the midst of the launch of the Singer Visa Credit Card—a first for a finance company in the country.
IT products pre-tax profits increased 74.47 percent YoY to Rs. 435 million and turnover increased 38.96 percent YoY to Rs. 10.39 billion. Consumer electronics pre-tax profits increased 2.61 percent YoY to Rs. 250.87 million, while turnover increased 4.58 percent YoY to Rs. 6.67 billion.
"There was significant growth in all key product categories. Particularly tablets grew by 105 percent, air conditioners by 57 percent and smart phones by 54 percent," Pieris said.
New products such as smart TVs and locally manufactured invertor refrigerators were introduced during FY16.
Retail Holdings (Sri Lanka) BV owns 79.68 percent of shares in Singer (Sri Lanka).