---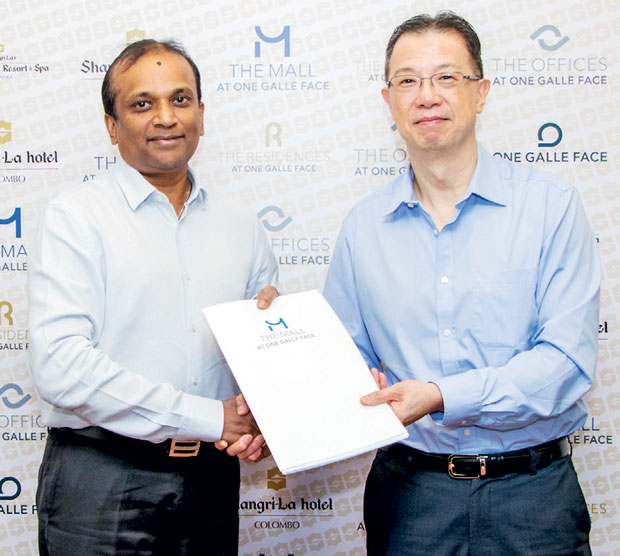 Ashok Pathirage, Chairman of Softlogic Holdings PLC and Wilfred Woo, Executive Director of Shangri-La Hotels Lanka Pvt Ltd commemorate the partnership between Odel and The Mall at One Galle Face
Shangri-La Hotels Lanka Pvt Ltd has inked an agreement to partner with Odel, Sri Lanka's premier fashion and lifestyle department store owned and managed by Odel Plc, a subsidiary of Softlogic Holdings PLC.

The Mall at One Galle Face is part of a mixed development project comprising a 450-room hotel, 390 luxury apartments and 38 levels of office tower space.

Targeting to open in June 2019, The Mall at One Galle Face boasts 490,000 square feet of net lettable space in the heart of Colombo, and will provide an exclusive retail offering to shoppers. Comprising 7 floors, it will boast a 9-screen cinema hall, a 17,000 square feet food court that will bring the best of local street food and international cuisines together, a gourmet super market, and close to 300 units of retail, entertainment and dining options to suit a wide variety of preferences.

The Mall at One Galle Face will be a one-stop shopping destination for the whole family, and will bring beloved home grown brands together with renowned international brands under one roof. We are now seeking interesting concepts and ideas for The Mall at One Galle Face. Odel Department Store, among the first of these retail partners, will occupy three levels within The Mall whilst a regional cinema operator will be occupying Level 6 of the mall. Ashok Pathirage, Chairman of Softlogic Holdings PLC said: "We are delighted to partner with Shangri-La on this momentous occasion and open the Odel department store within its premises. Shangri-La is no stranger to luxury and we see a perfect fit in extending their guests with a unique and unparalleled shopping experience requisite with the best of both local and international fashion brands. With tourism set to grow in leaps and bounds in Sri Lanka, Odel is fully geared to tap into the growth opportunities that are opening up and we are very confident and invigorated that this partnership would reap great results for both parties."

Wilfred Woo, Executive Director of Shangri-La Hotels Lanka Pvt Ltd, said: "We are indeed thrilled to have Softlogic Holdings PLC's Odel Department Store to be among the first of these retailers to partner with us. As the leading department store operator in Colombo, Odel is a good fit for the mall as it understands the local as well as international needs and behaviour of its shoppers. We have also confirmed the cinema operator, details of which we will be releasing soon. We see immense growth potential in Colombo and are excited to be part of this growing emerging economy. We look forward to a successful partnership providing the best of retail, dining and entertainment that Sri Lanka has to offer, all within one exclusive address."