---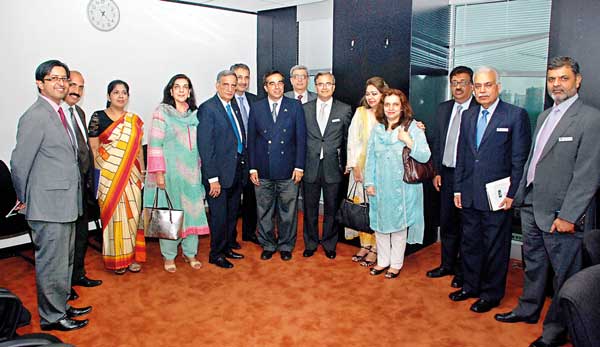 The Board of Investment of Sri Lanka hosted a delegation consisting of 11 high ranking Pakistani state officials currently training at the elite National School of Public Policy inLahore, Pakistan.
The delegation was headed by Naeem Aslam, the Dean of the school. The visit by this delegation to Sri Lanka was to build up to stronger ties with Sri Lankan state institutions and exchange views and knowledge in the areas of the public policy.

The visit to the BOI was an opportunity for the senior officials from Pakistan to understand better Sri Lanka's investmentclimate and policies and the status of investments in the country. Altogether 11 officials from Pakistan visited the BOI, drawn from a wide range of institutions such as the civil service, foreign ministry, customs and police departments and other institutions. They were briefedat the BOI by Nilupul De Silva, Director (Promotion) and Dilip Samarasinghe, Director (Media & Publicity).

Though Pakistan has been a longstanding friend of Sri Lanka, FDI from Pakistan represented a cumulative total of just US$9 million. Hence the delegation head stated that he would promote Sri Lanka among leading Pakistani companies.

The Pakistani delegation also complemented BOI for the good work carried in the field of Investment.
Naeem Aslam explained that the senior officials visiting Sri Lanka would soon assuming duties as Additional Secretaries to their respective Ministries, upon completion of the training programe at the National School of Public Policy. In that capacity they would often be heading the ministries.