---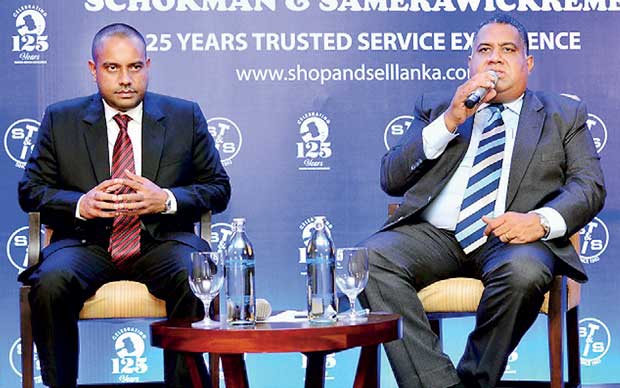 By Zahara Zuhair
Revolutionizing the local auction industry, auctioneers Schokman and Samerawickreme will be introducing Sri Lanka's first online auction portal which is billed to go live by
next month.
Through this the clients can view a wide range of products from furniture to antiques, to jewellery, or art pieces, bidding live in real time. They said that they will be gradually moving in to motor vehicle and real estate sectors as well.
Talking at their first press conference in their 125 year journey, CEO and Managing Partner Anuja Samerawickreme said, "Usually auctions happens at certain locations. Going one step further, we have introduced this site where auction happens online. You can bid from anywhere you want. You can see the bids, auctioning happening, and other bidders online also will be visible
to you."
He said that they have carefully thought of everything including, live biding, registration process and the payment process as arrangements will be made to deliver items that are bade from overseas.
There is a very niche market for antique furniture in Sri Lanka as it is very difficult to find genuine ones unless they get it from someone who passes away or from other estates, Managing Partner Navinda Samerawickreme said.
Talking about how their business started, he said that it happened through a friendship built between his grandfather Shirley Samerawickreme and the British planter Schokman who met each other at a horse race in Nuwara Eliya. And they had things in common such as their interest for furniture, art and antiques. When Britishers were leaving Ceylon, they disposed their stuff through Schokman's residence in Badulla. Then his grandfather joined Schokman to establish this business in 1892 in Kandy. His grandfather then continued to carry this business in the Britisher's name after his demise as a honour to his friend. He said that then the business gradually expanded with the involvement of the Samerawickreme family.
"Mr. Schokman's and my grandfather's partnership formed the foundation for the bedrock of auctioneering in Sri Lanka," he said. He said that his father Samerawickreme was a master auctioneer, born to his craft. He said that since his entry in to the business in 1955, his half century in the trade ensured that the business will become accessible more geographically.
It was noted that the auction house now has the addition of a flagship auction sales facility in Colombo 5, where clients can either walk in and purchase items or engage in an auction according to preference.
They said that another business is firmly on road for expansion
and development.
The company which is also for valuation and real estate brokering, also have formed partnerships with globally recognised real estate entities, including Savills Australia and Cushman and Wakefield.
They said that they have now firmly etched themselves as the preferred auctioneer among the diplomatic corps, NGOs, individuals and the private sector.
This includes the valuation of both movable and immovable properly.
Further, it was noted that they conduct at least 100 auctions for about 300-400 vehicles annually.