---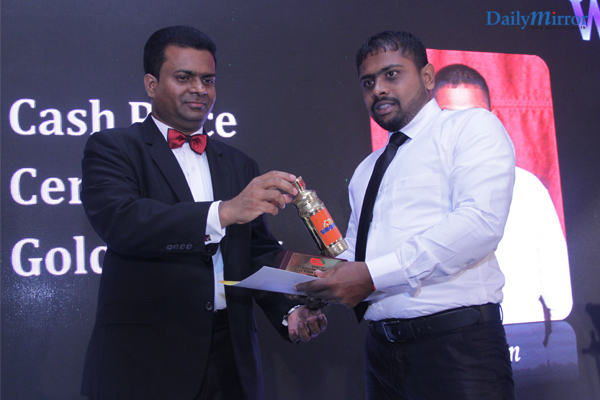 Executive Director of C. W. Mackie PLC - Mr. Mangala Perera handing over the Best Sales Representative Trophy to Sales Representative - Mr. Asen Thilakarathna, at the Scan Annual Sales Conference 2017/18 - Star Awards Night, held at Club Palm Bay Marawilla.
The Scan Products Division, which comprises of the FMCG arm under C. W. Mackie PLC, held its Annual Sales Conference on the 5th and 6th of May , 2017 at the Club Palm Bay Hotel, Marawila. As the event took place over the course of two days, the primary objectives of the event were to provide the participating staff members with a training session, partake in the award ceremony and felicitate the awardees as well as plan out the company's strategy for the forthcoming financial year.
The most anticipated item of the event's agenda was the Award Ceremony where Scan Products outlined the very best of their field sales professionals, highlighting their hard work and achievements, and duly honouring them with Star Awards. Many field sales force members were recognized at the award ceremony for having exceeded their target limitations and going out of their way to achieve their work objectives.
The winners were: Mr. Ashan Thilakaratne who won the Gold Award, Mr. Charitha Jayaweera who won the Silver Award and Mr. Chamal Karunaratne who won the Bronze Award. The winners were undoubtedly able to set themselves forward as exemplary figures amongst their peers as well as other staff members to follow suit.
For the course of the training session that was scheduled on the agenda of the two-day event, a couple of reputed corporate trainers were present to conduct the program, which was divided into two specific segments; Technical Sales Training and Motivation & Leadership Training. The training sessions were customized to best fit the group of staff participants and included aspects of skill-building, self-refinement and grooming with the aim of getting the trainees ready to face future challenges and leadership opportunities in the field and beyond.
The theme of this year's Annual Sales Conference was announced as 'Growth With Focus' and clearly set forth a straightforward vision for everyone involved. The award ceremony was also denoted as a platform to disclose the company's Business Plan for the Year 2017/2018 whilst strategizing over the objectives for the said year and working on streamlining these into the forthcoming financial year with perfection.
Commenting on the event's purpose and objectives, C. W. Mackie PLC, Executive Director, Mr. Mangala Perera stated, "As this year's Annual Sales Conference concluded successfully, I would like to recall more or less, five years ago when the Scan Products Division functioned as a small business unit within the C. W. Mackie PLC Group. Today, the Scan Products Division has come a long way within a short period of time thanks to the efforts of our sales team. We are proud to have become the Group's source of steady profit by contributing over 50% of total group profitability. This is indeed an achievement and it is a relief to have a dedicated sales team such as ours. This event also stands as a platform where we can recognize our accomplishments of the last financial year, reassess progress, analyze any drawbacks, to determine new targets for the next year and focus on working towards achieving our goals."