---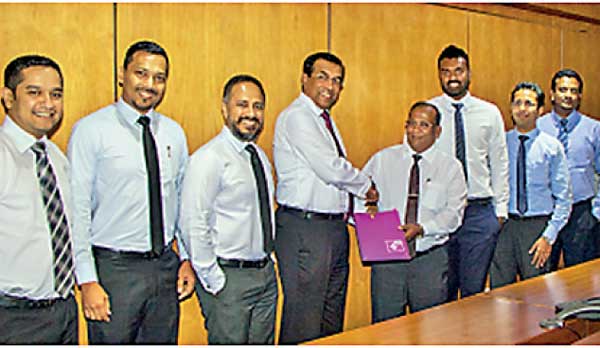 From left: IFS Business Solutions Advisor Sean Fernando, Business Development Manager Saahd Ghouse, Director Sales and Marketing Shiraz Lye, President/CEO Jayantha De Silva, Sanken Overseas (Pvt.) Ltd Managing Director/CEO V.B. Kulupana, Executive Director Mevan Gunatilaka, AGM Estimation and Contracts Duleesha Wijesiri and Systems Administrator Dines Widanage
IFS, the global enterprise applications company, announced that Sanken Overseas (Pvt.) Ltd, a subsidiary of Sri Lankan construction giant Sanken Construction Ltd, has selected IFS Applications9 to manage its overseas construction projects and operations.

The company chose IFS Applications to ensure access to improved management information, project profitability information, enhanced stock and employee management as well as management of subcontracting work.

The IFS solution purchased by Sanken Overseas (Pvt.) Ltd includes finance, supply chain, project management and human resource capabilities and will be used by 233 employees across the organisation's geographically dispersed operations in Sri Lanka, the Maldives, the Seychelles, Kenya, Uganda and Myanmar.

"Sanken is pleased to work with IFS and we look forward to deploying a fully-fledged ERP suite," said Sanken Overseas (Pvt.) Ltd Managing Director/CEO B.B. Kulupana.

"The rapid growth of our overseas business has brought on many management challenges, which we hope the IFS solution will help us overcome and transform into an opportunity that can have a positive bearing on our margins and profitability."

IFS Sri Lanka President/ CEO Jayantha De Silva added, "IFS has a proven track record in the construction industry globally and we are happy to be able to embark on yet another construction implementation, this time together with a Sri Lankan company. IFS Applications is a user-friendly and easily adaptable ERP suite that I am sure will be well received by Sanken's user base. Our experienced team of consultants and I look forward to completing yet another successful implementation."