---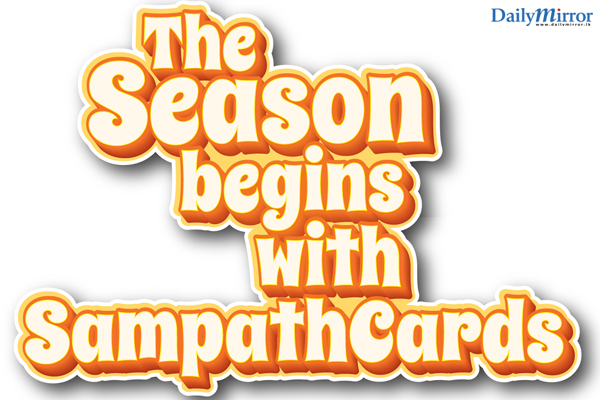 SampathCards is enabling cardholders begin the holiday season with a host of amazing offers that help them indulge themselves in the best that the season has to offer. This season,Sampath Mastercard, Visa Credit Cardholders and Sampath Bank American Express Credit Card members can create unforgettable experiences, indulge in the most exquisite delicacies, be in vogue with the latest styles, and much more while saving with every purchase they make.
"Redefining Sri Lanka's credit card landscape for over a decade, SampathCards continue to offer consumers the highest levels of security, convenience and peace of mind. We have always focused on helping them make responsible choices while indulging them with unparalleled benefits and privileges. With an amazing array of deals on offer this festive season, we would like to invite our cardholders to revel in the holiday spirit with their friends and family with Sampath Cards," said Mr. Kusal De Silva, Head of Card Centre, Remittances& Bank Notes Operations, Sampath Bank.
As the styles change with the season, SampathCards looks to help cardholders stay in vogue while enjoying discounts of up to 25% at partnering retail and fashion outlets like House of Fashions; United Colors of Benetton, Urban Trendz, Shirt Works, Crocodile, Cotton Collection, Leather Collection, Plus Cotton Collection; Diliganz; Mondy; Kelly Felder; Levi's; Nike; Mango; Giordano; Mother care; Charles & Keith, Tommy Hilfiger, Reebok, Puma, Hameedia, Envoy Mansion, Aviraté, Clarks, Arrow, US Polo Assn. Dilly & Carlo; Triumph; and many more. Cardholders can also indulge in the finest footwear with discounts up to 20% at Bata, DSI Premier, Genelle, and DI Leather. Watches are also more affordable this season with discounts of up to 40% at Turret, GMT, Wimaladharma& sons and International Watches.
Everyone's looking to take a much neededannual break during the season and SampathCards is helping cardholders make those flights of fancy a reality by offering discounts of up to 50% atsome of the country's most loved holiday destinations. Spread across the island, partnering destinations include Maalu Maalu Resorts& Spas, Passekudah, Club Palm Bay, Marawila, Fisherman's Bay, Weligama, Sigiriya Village, Suriya Resorts, Waikkal, The Palms, Beruwala, Kithala Resort, Tissamaharama; Mountbatten Bungalow, Kandy, Scottish Planter Glendevon Bungalow, Nuwara Eliya, Aliya Resort & Spa, Sigiriya, Tangerine Beach Hotel, Kalutara, Tea Bush Hotel, Nuwara Eliya, OZO Kandy, Arie Lagoon, Negombo, Calamander Unawatuna Beach, Calamander Lake Gregory; Amaara Sky Hotel, Kandy, Amaara Forest Hotel, Sigiriya, Villa Pinnawala & Restaurant, and The Rainforest Ecolodge, Deniyaya.
Those looking to leave it all behind and explore the world this season can enjoy savings of up to 25% on flights and hotel bookings on findmyfare.com, earn 10 times the ultramiles on IWS Helicopters as well as 12 months interest free instalments on travel transactions at selected partner outlets.
The season is not truly complete without time spent with friends and family and as you share a meal with them, SampathCards wants you to do so while saving up to 25% when dining at Tea Avenue, Asylum; rare, Bommu at OZO Kandy, EAT at OZO Colombo and Kandy, ON14 at OZO Colombo, Cloud Café, Scarlet Room, Amber Poolside and Loft Lounge Bar at Colombo Court; Bappa's, Navro Seafood Restaurant, Earl's Regency Restaurants, Red Orchids, Bommu Rooftop, Ahara Gourmet Gallery and Shoreline Beach Club at Amari Galle.
Cardholders can save on their grocery bills too with a discount of 10% on the total bill at Cargills Food City.
SampathCards has also partnered with some of the most exclusive jewellers in town to add to the festive glow this season. Cardholders can avail discounts of up to 50% and up to 12 months 0% interest instalments at Vogue Jewellers, Raja Jewellers, Chamathka, Raddella Jewellers and Aminra.
As this is the time of the year people look to make changes around the house Sampath Cards seeks to help them do so with special discounts at Celcius Luxury Bedding; Hants Showroom; Comfort World and Orange Electric. They can also avail themselves to discounts of up to 50% and 20 months 0% interest instalments when purchasing electronics or furniture at Softlogic, Singer, Abans, Damro, Arpico Furniture, Singhagiri and Koala.
Cardholders can avail more great offers online with up to 15% discount and 12 months, 0% interest instalments at Retail Genius, wow.lk and Goyo.lk.
Going beyond festive purchases, SampathCards is also offering a host of discounts and privileges at several other partners covering healthcare,eyewear and hearing aids, baby and kids items, books, education, motor care – spares, service and accessories and motor insurance.
"Year after year, SampathCards continue to offer bigger discounts at a greater selection of merchant partners. This holiday season, we are delighted to indulge our cardholders in the best and biggest ever selection of deals in the country with discounts of up to 50% on offer at over 1,500 partner outlets. With mega discounts across a diverse set of merchants and categories, cardholderscan begin their seasonal festivities with SampathCards and make the holidays a bit more special for themselves and their loved ones," said Mr. Darshin Pathinayake, Senior Manager - Card Marketing, Remittances, KPO & Bank Notes Operations, Sampath Bank.
Thus, as always, SampathCards continues to offer an enticingly wide selection of benefits to its cardholders during this holiday season too, further cementing its position as the preferred choice, all year round.
Unlike most other credit cards that burden cardholders with as many as 28 charges, Sampath Cards levy only 4 charges and do not charge any fuel surcharge as well. They also have the distinction of being the only bank to offer free overseas travel insurance to cardholders even when they do not purchase their air tickets with Sampath Credit Cards. The "Sampath Extended Settlement Plan" allows cardholders to convert any local or overseas direct transaction in to a preferred instalment plan for a nominal handling fee. Card holders can also obtain hassle free instant cash advances and settle it through convenient instalment options under the "Cash Instalment Plan". The Sampath Cards Balance transfer programme allows customers to transfer the outstanding balances on their credit cards from other banks along with the accrued interest to a Sampath Credit Card at a lower interest rate and pay in monthly instalments.And there is the exemplary service that Sampath Bank has come to be synonyms with for over 30 years.
Please visit http://www.sampath.lk to view the complete list of offers or call 011 2300 604.