---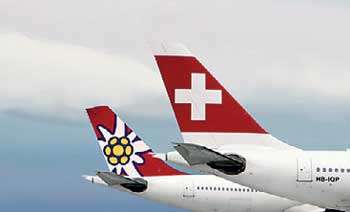 Swiss International Air Lines (SWISS) in codeshare with Edelweiss Air will commence direct non-stop flights from Sri Lanka to Switzerland with effect from November 4, 2018.

It will be a twice weekly operation on Fridays and Sundays from Colombo to Zurich with Airbus A340 that can accommodate 314 passengers.

Swiss International Air Lines is the national airline of Switzerland, which is famous for its multifunctional pocket knife, ski resorts, cheese, chocolate and watches.
Edelweiss Air is a Swiss leisure airline wholly owned by Swiss International Air Lines and thus part of the Lufthansa group.

Beyond Europe's borders, SWISS and Edelweiss fly to 47 additional destinations, offering high premium transport to 24 different countries outside Europe.
In total, SWISS and Edelweiss offer 1,805 weekly flights to 155 destinations in 56 countries around the globe.

The general sales agent for both SWISS and Edelweiss in Sri Lanka is Baurs Air Services (Pvt.) Ltd, a fully-owned subsidiary of A. Baur & Co (Pvt.) Ltd.
A. Baur & Co (Pvt.) Ltd is a fully-owned subsidiary of Lanka-Baur Holding SA, Geneva, which in turn is owned fully by the Baur Foundation in Switzerland.