---
Sri Lanka's temporary ban on the importation of pepper has contributed to a sharp decline in pepper imports to India, according to an Indian media report.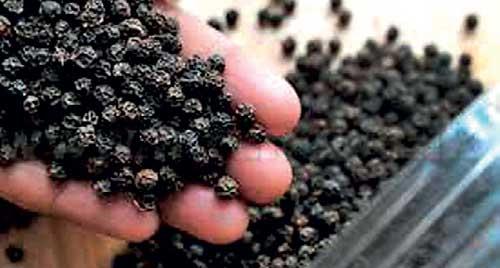 The Cogencis WorkStation based in India this week reported that India's black pepper imports are likely to have declined over 25 percent year-on-year to 1,680.80 tonnes in March, as the Sri Lankan government has increased vigilance since February, to prevent the routing of Vietnamese pepper into India with a fake certificate of origin of Sri Lanka.

Under the South Asia Free Trade Area, imports up to 2,500 tonnes from Sri Lanka are duty free, while 8 percent duty is levied, if imports are above the prescribed limit.

However, certain traders used to exploit this route to avoid paying customs duty of 43 percent and imported pepper for re-export purposes, after value addition within 120 days of the purchase.

The local spice growers blamed that the importation of pepper from Vietnam and other countries has led to lower prices for locally-grown high-quality pepper while damaging the reputation of locally-grown pepper internationally. There were also reports of mixing high-quality Sri Lankan pepper with low-quality pepper brought from other countries on board certain ships at sea.

Consequently, the Sri Lankan government in December prohibited direct re-export and import of spices, including pepper for re-export purposes after minor processing, under the Commercial Hub Regulations in the Finance Act.
The move has also led to a contraction of margin on the imported pepper from Sri Lanka and in the Indian market.