---
SLPA Chairman General Daya Ratnayake says employees resisting change
Says a large portion of workforce not ready to work in a computerised environment
Says politicised and unionised workforce has crippled efficiency and effectiveness

By Shabiya Ali Ahlam
The Sri Lanka Ports Authority (SLPA) yesterday stressed the urgent need for the entity to go digital but said it is faced with a major hurdle in doing so, as its workforce is resisting the changes in that direction.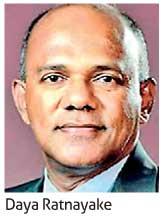 With the COVID-19 pandemic continuing to challenge the manner in which businesses across the world operate, SLPA Chairman General (Retd.) Daya Ratnayake warned that if the necessary steps are not taken to move the operations on to a digital platform, it is likely to that the major sea port operations will not survive.

Although the need to make the transformation is acknowledged to be mandatory for survival and growth, the SLPA chief termed the digitisation journey of the Colombo port as "awkward".

"The story is awkward. Our workforce is still largely dependent on paperwork. Many segments of the workforce have been by and large politicised and unionised, thus crippling the efficiency and effectiveness of the port as a commercial organisation," said Ratnayake while speaking on the impacts of the coronavirus on the shipping industry.

He added that a large proportion of the workforce is not ready to work in a computerised environment, which leads to corruption and malpractices. "There has been no visionary strategic plan throughout. Instead, ad hoc policies and procedures have been practised from time to time, to deal with the day-to-day operations.

The strategic importance of the Colombo harbour for shipping, given Sri Lanka's strategic location in the Indian Ocean, has not been done with serious calculations, in the past," Ratnayake added, while pointing out the entity's inefficiencies that have not been addressed over the years.

However, he sounded optimistic in transforming the SLPA for the better in the coming years, as Sri Lanka "is now with a visionary leadership, catering to these aspects with vigour".

According to Ratnayake, less than 25 percent of the operations at the Colombo port is computerised, which stresses the need to digitise the entity, so that it can be transformed to a smart port.

For that, he said, a thorough study should be carried out in identifying which areas need to be immediately digitised, as opposed to attempting to transform all processes of the entity overnight.

"We should have a careful study into individual factors, internal factors and external factors and accordingly, identify the problematic areas first and the remedies for the same.

We need to change the age-old inefficient systems and processes and reorganise, restructure and re-engineer the components in the entire supply chain and where it is required," he said.