---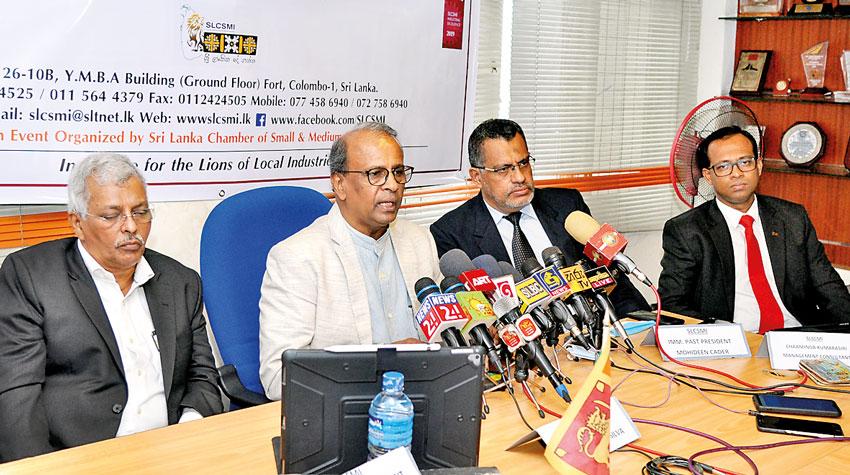 From left: SLCSMI Senior Vice President Collin Fernando, SLCSMI President Prof. Rohan De Silva, SLCSMI Immediate Past President Mohideen Cader and SLCSMI Management Consultant Chaaminda Kumarasiri
Pic by Nisal Baduge
Keen on establishing short-term measures as sustainable models
SLCSMI chief urges govt. to formulate national policy for SME development
Chamber looks forward to current minister's continuity in same role
SLCSMI wants national level database setup to attract funds
By Nishel Fernando
Sri Lanka Chamber of Small and Medium Industries (SLCSMI) yesterday urged the government to expand and solidify the short-term measures introduced in support of the country's SME sector amid COVID-19 crisis, in order to retain the momentum for the sector's
continuous development.

"We want the government to take steps to continue the good things that they have started; it should not be a temporary measure. Even after the COVID-19 pandemic is over, we want the government to maintain the momentum that they started by supporting this segment. We want some of the short-term measures to be established as sustainable models," SLCSMI Management Consultant Chaaminda Kumarasiri told reporters in Colombo yesterday.

He acknowledged that the government has taken several important and timely decisions to support the sector with the COVID-19 pandemic infused crisis which includes imposition of import restrictions, credit guarantee scheme and inter-ministerial Presidential taskforce support.

"In the current context, we also observe that the common man has access to authorities up to the ministerial level than before," Kumarasiri added. However, he noted that some of these measures should expand, particularly the credit guarantee scheme introduced by the
Central Bank (CB).

"The average cost of funding in this sector is as high as 25-28 percent, because we don't have low cost funding from the financial sector due to rules, procedures and collateral," he noted.
Therefore, the Chamber recommended the government to expand this scheme as a large-scale mechanism to support the sector.
Further, SLCSMI President Prof. Rohan De Silva also urged the government to formulate a national policy for SME development.

"There's an attempt to develop such a policy, but we are yet to see the blueprint coming out which is a necessity long overdue," Kumarasiri stressed.

The chamber emphasised that the constant reshuffle of Cabinet Ministers was a major barrier for the implementation of strategic initiatives to develop the sector.

"Lot of good ideas have come from the State sector, but there have been frequent changes in the leadership. There has been 'Ministerial reshuffles' and consequently leadership reshuffles in respective departments. Hence, there hasn't been continuity in most strategic initiatives brought into the system," Kumarasiri lamented.

Therefore, the Chamber anticipates President Gotabaya Rajapaksa would reassign the current Minister of Small & Medium Business and Enterprise Development, Industries and Supply chain Management, Wimal Weerawansa to the same role in order to continue to the key developments of the sector.

"The current ministerhas been a guiding pillar to us. He is a very good listener and he silently observers everything and has been supportive to us," Prof. De Silva acknowledged.

SLCSMI also urged the government to setup a national level database of SMEs in the country while noting the non- availability of such a comprehensive database has become a barrier for SMEs to attract funds from donors or investors.

According to SLCSMI, Sri Lanka's SME sector contributes 70 percent to the country's GDP.