---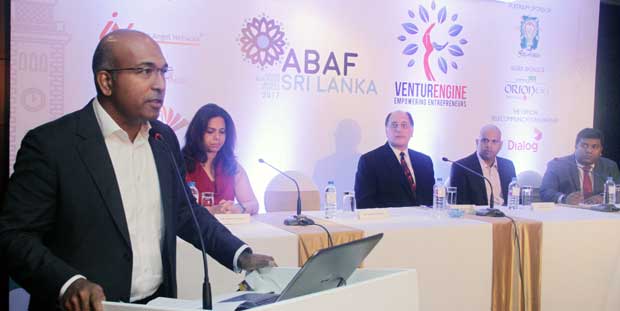 From left: Lankan Angel Network Chairman Dumith Fernando, Aavishka Program Manager Heena Khushalani, Asian Business Angel Forum Chairman Jordan Green, BOV Capital Managing Director Prajeeth Balasubramaniam and Orion City Director Jeevan Gnanam Pic by Pradeep Dilrukshana
By Zahara Zuhair
Sri Lanka will be hosting its first Asian Business Angel Forum (ABAF) 2017, in October with the participation of some of Asia's most prominent Angel investors, venture capitalists, high networth individuals and other key stakeholders.
Themed, 'Cross-border investing in startups', over 250 investors from across the Asian, Asia Pacific, Middle-East and Australasian regions are expected to participate.
"This will help to put Sri Lanka's start up eco system further up on the map. This the only conference that brings Angel investors from across the Angel network," Lankan Angel Network Chairman Dumith Fernando said.
"The reason of coming together is that we like to discuss the challenges, each others experiences and best practices. We like to discuss how to regionalize and globalize our start ups both in terms of accessing funding, and accessing markets. We like to see each other's updated in current trends of start ups, learn each country's eco system and find opportunities for investors," he said. It was said that Sri Lanka won the bid to host ABAF this year ahead of other countries in the region at the conference held in New Zealand two
years ago. Fernando said that being selected as the host country for the ABAF 2017 is a testament of how far the start-up eco system in the country has progressed over the last few years. "This is a truly unprecedented opportunity for our local entrepreneurs to go beyond their familiar boundaries and take their business to the next level," he said. "This is the largest and the most important gathering for early stage start ups in Asia. For the first time we are here in Sri Lanka to recognize the support of Lankan Angel Networks, and to recognize their desire to grow," ABAF Chairman Jordan Green said.
"This brings successful people together, the elite of early-stage investment in Asia. It drives connections, it drives opportunities and it drives jobs. The networking alone delivers participants a wealth of privileged information unavailable at any other event in Asia," he stressed.
Venture Engine 2017
The sub event of the conference, Venture Engine programme, will act as an unprecedented conduit for Sri Lankan entrepreneurs to gain access to investment, expertise, and direct mentorship from some of the Asian region's most prominent investors via the
ABAF platform.
This programme is said to be the most successful platform for accelerating and expanding the country's most promising entrepreneurial concepts. Applications will be open to any early stage company or startup with some customer validation and revenue as well as those in pursuit of
series A funding.
Fernando said that it was officially launched in 2012, with the purpose of bringing the local investors and the start up community together.
"We typically guide and mentor the entrepreneurs to get them to market access and funding access," he said. "I strongly urge anyone who feels that they have a strong business plan along with a move; business model to step forward and take up the challenge," he said. It was noted that last year they had received 225 business plans.
He said that they have already invested in 23 start ups and raised Rs. 2 billion, creating 200 jobs.
With the partnership between founders BOV Capital, the Indian Angel Network and the Lankan Angel Network, Venture Engine has led the way in developing the startup eco-system
in the country.
"Each year we have managed to open new doors via this programme, and in 2017 via the connection with ABAF we believe that we have now achieved the next iteration in this progression towards a globalised competition," BOV Capital Managing Director Prajeeth
Balasubramaniam said.
Submissions for Venture Engine 2017 will be open from 28 June to 9 August, following which the best business ideas will be selected for a programme of rapid improvement over the course of five workshops with filtering and mentoring
between sessions.
The finale of the Venture Engine is expected to take place on 11th October this year.