---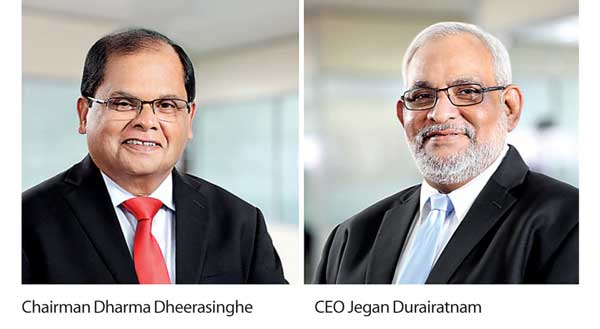 Sri Lanka's largest private lender by assets, Commercial Bank of Ceylon PLC (ComBank), posted a net profit of Rs.3.26 billion or Rs.3.66 a share for the quarter ended June 30, 2016 (2Q16) increasing 23 percent a year ago, the interim results showed.

This is despite the, "increasing costs of funds and shrinking margins," the bank said.

ComBank loaned as much as Rs.43.7 billion during the first six months of 2016 (1H16)—an average Rs.7 billion a month—recording an expansion of 8.3 percent in the loan book of the bank on a standalone basis.
The bank has a total loan book of Rs.569.9 billion and an asset base of Rs.930.4 billion, up
5.75 percent.

A slightly above 12 percent growth in loans in 2H16 will place ComBank among the two state lenders with over a trillion asset base becoming the first private licensed commercial bank to achieve the feat.
But a slower growth in loans is expected during the remainder of the year due to tightened monetary conditions. The bank plans to raise Rs. 7 billion in subordinated debenture to minimize asset and liability maturity mismatches and improve its Tier II
capital base.

In the loan book, overdrafts grew by Rs.13.6 billion, housing loans by 3.73 billion and credit cards by Rs.400 million.
Meanwhile, the growth in deposits surpassed the growth in loans as the deposits grew by 8.97 percent or Rs.56 billion during the 1H16.
The bank has a total deposit base of
Rs. 680.1 billion. However the low cost deposits, Current And Savings Accounts (CASA) ratio fell to 46.1 percent from 49.7 percent during the period due to growth in high cost fixed deposits.
This pushed the net interest margin down to 3.58 percent from 3.62 percent.

"The review period was one of low liquidity in the industry and reducing margins for the bank. The growth achieved despite these factors is attributed to the operational strength of the institution," Jegan Durairatnam, ComBank CEO said in a statement.

Nevertheless, the bank increased its net interest income by 6.3 percent year-on-year (yoy) to Rs.8.1 billion.
Net fee and commission income grew by 24 percent yoy to Rs. 1.5 billion.

Meanwhile, the bank made a Rs.1.9 billion loss from its investments under trading against a Rs.248.1 million profit a year ago due to upward movement in interest rates. The bank has a trading book which mainly consists of government securities of Rs.8.67 billion.

Other income jumped 306 percent yoy to Rs. 2.34 billion. Foreign exchange revaluation gains are recognized under these incomes.
There has been a significant increase in provisions made against possible bad loans expected from individual borrowers as specific provisions has increased to Rs.3.2 billion from just Rs.400 million a year ago.
Nevertheless the general provisions had a reversal of Rs.2.67 billion against a provision of Rs. 713.6 million demonstrating the enhanced quality of the overall loan book. Further the gross non-performing loan ratio declined to 2.64 percent from 2.74 percent.

The government held 19.05 percent stake in ComBank through the state-controlled private sector pension fund, the Employees' Provident Fund (9.70 percent) and the state insurer, Sri Lanka Insurance Corporation Limited.
For 1H16, ComBank made a net profit of Rs.6.5 billion or Rs.7.33 a share, increasing 25.8 percent from a year ago.
"The bank will open a fully-fledged Tier I bank in the Republic of Maldives in 2016. The bank also recently received a license to operate a fully owned money transfer operation in Italy," the statement from the bank added.