---
Says US decision to retract from AGOA could hurt Lankan apparel sector
Points out Brexit will also have implications to SL's GSP Plus access to UK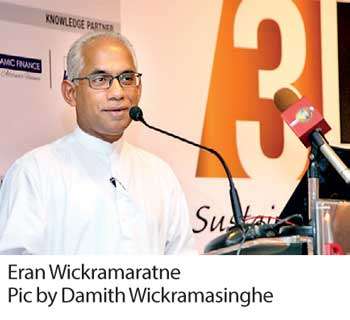 By Shabiya Ali Ahlam
Sri Lanka's economy state minister this week said the national economy could face further volatility in the near future, as the negative spillover effects from the recent changes in the global economy would be felt by the island nation, regardless of its level of involvement.

With Sri Lanka being vulnerable to shocks due to the lack of diversity in its export basket and markets, Finance State Minister Eran Wickramaratne asserted the country would face issues stemming from any changes in the global economy, however distant they may be.

According to him, the two key challenges yet to be tackled are Brexit and the possible retraction of the African Growth and Opportunity Act (AGOA) by the United States. "In a context where GSP Plus is compromised, the potential loss of the rival economic benefits such as the provisions of the AGOA will provide considerable dent in the Sri Lankan export market," said Wickramaratne.

The state minister was addressing the third Islamic Finance Forum of South Asia in Colombo, on Tuesday.

An additional act to the AGOA by the Trump administration in the Asia policy has led for further room for speculation and uncertainty in the case of Sri Lanka, according to the minister.

The AGOA essentially provides trade preferences for quota and duty-free entry into the United States for certain goods, expanding the benefits under the Generalized System of Preferences (GSP) programme.

The act expands market access for textile and apparel goods into the United States for eligible countries, though many other goods are also included.

With the US contemplating the retraction of the act, the move will have negative implications on Sri Lanka's economy.

This is particularly due to the Sri Lankan companies, which have started apparel companies in Ethiopia and Kenya, enjoying duty-free access to the US market under the provisions of the AGOA.
Meanwhile, Brexit has particular significance to Sri Lanka due to GSP Plus, according to the state minister.

While under the current arrangement, Sri Lanka has a programme that remains valid until 2023. Wickramaratne speculated that overall exports to the EU will increase by nearly US $ 500 million and the export benefits may reach the potential of about 15 percent in view of the preferential trade agreement.

However, he pointed out that Brexit could remove Sri Lanka's access to the British market at favourable tariffs causing a significant market loss for Sri Lanka.
The UK is the second highest export destination for Sri Lanka.

"Now is the time to rebuild our economy despite all the threats we are faced with. We will continue to follow the policy of building an outward looking economy," assured Wickramaratne.