---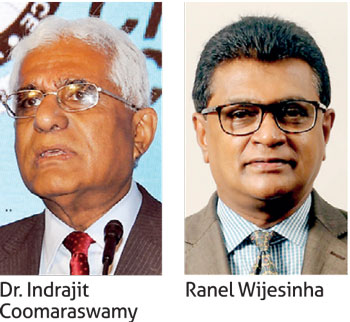 Optimistic on the future prospects, the country's Central Bank chief this week assured the local business community that it would see stability in the immediate future and time is ripe for it to take advantage of the current favourable circumstances ever witnessed in Sri Lanka's history.

Central Bank Governor Dr. Indrajit Coomaraswamy assured the unity government is making "positive changes" in its approach to policymaking with regards to macroeconomic management, monetary, trade and investments.
Highlighting the efforts taken on the macroeconomic and monetary front, he said the country is moving firmly towards lower fiscal deficit.

"We are seeing improvement in public finance, prioritization of public expenditure and investments, reforms in state-owned enterprises taking place, tax revenues are being enhanced and we are on track in achieving a surplus in the current and primary accounts," Dr. Coomaraswamy told the Sri Lanka Economic Summit concluded yesterday in Colombo.

On the monetary side, Dr. Coomaraswamy pointed out that much focus is diverted towards flexible inflation targeting and having a forward-looking and proactive monetary policy.

Touching on the exchange rate scenario, the Central Bank chief assured there is no interference from the watchdog to have an "overvalued exchange rate that cannot be sustained and will have serious consequences".

Commenting on the Central Bank governor's statement at the Economic Summit, Securities and Exchange Commission Commissioner and Chartered Accountant Ranel Wijesinha in a statement commended Dr. Coomaraswamy's efforts in stirring a positive sentiment.

"The Central Bank governor spoke very well. His positive statement, delivered with clarity and characteristic humility and simplicity, backed by learned economic thinking rather than political hot air, will boost even further," said Wijesinha in his statement.

Highlighting that the Colombo bourse recorded a cumulative net foreign investor inflow of Rs.24 billion on July 21, 2017, he stated the domestic investors should "now put their money where their mouth is".
"When a governor, who is respected, who is also an economist, feels secure about the economy, then the nation must get moving.

When the opportunity knocks on the front door, the domestic investors must not go to the back door looking for further handouts and opportunities unless they are sectoral or national needs rather than individual corporate or personal needs," Wijesinha said.