---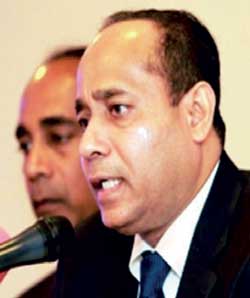 RN Group of Companies Chairman Eng. Ruwan Edirisighe was elected as the second President of the Moratuwa Peradeniya Engineers' Reunion at the annual general meeting (AGM) held recently.
Eng. Edirisinghe is the first University of Perdeniya alumnus to be elected as President of the Moratuwa and Peradeniya Engineers' Reunion, which was founded in 2013.

The engineers passed out from the country's two prestigious engineering faculties have joined hands to synergize the collective strength of the Moratuwa and Peradeniya engineering graduates spread across the globe to collaborate and support the engineering innovations and research in Sri Lanka.
The fifth edition of the Mora Pera Engineers' Reunion is scheduled to be held today at the University of Moratuwa.

Eng. Deepal Pitigala, Captain of the University of Peradeniya University's Cricket team in the 1981-82 season and an eminent civil engineer employed at Balfa Beaty PLC Whitehall London UK, will grace the occasion as the guest of honour.

The fifth Mora Pera Inter Engineering Faculty T20 Cricket Encounter for Sir Arthur C. Clerk Memorial Trophy is scheduled to start at 2:00 p.m., at the University of Moratuwa grounds on Saturday, October 21, 2017. The annual Mora Pera Cricket encounter is organised by the Mora Pera Reunion to create a platform for the engineers passed out from the two pioneering engineering faculties and spread across the globe to reunite and raise funds for the Mora Pera Engineering research fund. This year's event is expected to be attended by a large number of engineers from Sri Lanka and abroad and will be a meeting place for them to get together and go down the memory lane of their campus days nostalgia.

"At a time all Sri Lankans are looking forward to a prosperous future for the country, every professional has a role to play in our economic development. The reunion of Moratuwa and Peradeniya engineers is a fine opportunity for engineers from various generations to re-establish contacts and network.

The outcome of such collaborations should no doubt enhance their collective contribution to the Sri Lankan society at large. I decided to accept the invitation by its founders to play an active role in the Mora Pera Reunion having realized its potential to contribute to society and country's development," said Eng. Edirisinghe.

Mora Pera Engineers' Reunion Founder President Eng. Damith Hettihewa commented, "A larger percentage of Sri Lankan engineers work and live aboard. Building a global engineers' network was a key objective of Mora Pera Engineers' Reunion initiative. Engineers from the Moratuwa and Peradeniya universities are beneficiaries of the free education system and hence have a greater responsibility to contribute to the country's betterment. I sincerely hope that the Mora and Pera engineers will come forward to strengthen the research fund that was launched at the second Mora Pera Reunion Oration held in 2014, at the University of Peradeniya," concluded Eng. Hettihewa.