---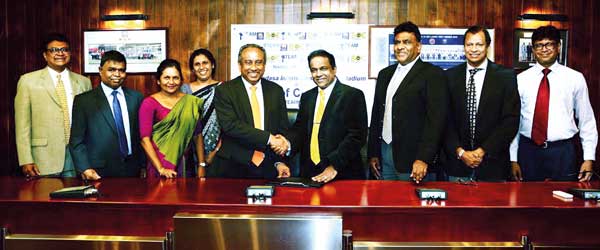 BOC Chairman President's Counsel Ronald C. Perera and Sri Lanka Cricket Board President Thilanga Sumathipala (centre) exchanging agreements in the presence of (from left) BOC Director Ranel WIjesinha, BOC General Manager D.M. Gunasekera, Chief Legal Officer Gaya Jayasinghe, Legal Officer Purana Tilakaratne, SLC Vice President K. Mathivanan, SLC Secretary Mohan De Silva and BOC CMO Dr. Indunil Liyanage
The signing of the agreement to name R. Premadasa International Cricket Stadium's north sight screen as 'Bank of Ceylon End' took place recently at the head quarters of the Sri Lanka Cricket Board.

The agreement was signed by the Bank of Ceylon (BOC) Chairman President's Counsel Ronald C. Perera, Director Ranel Wijesinha and General Manager D.M. Gunasekera on behalf of the bank.

Sri Lanka Cricket Board President Thilanga Sumathipala graced the occasion and Vice President K. Mathivanan and Secretary Mohan de Silva signed on behalf of the Sri Lanka Cricket Board. Cricket is a world-renowned sport which has won the hearts of many enthusiasts locally and internationally. The popularity of this game cuts across many geographic and cultural layers in Sri Lanka and builds harmony among all communities.

R. Premadasa International stadium being one of the prominent well-equipped cricket stadiums in the country that can accommodate around 25,000 people at a time, attracts many cricket fans from around the world for matches that are being played day and night.

BOC could promote its image locally and internationally by associating with cricket. Being the No.1 Bank in Sri Lanka BOC associating itself with the No.1 popular sport in the country makes it a significant moment.