---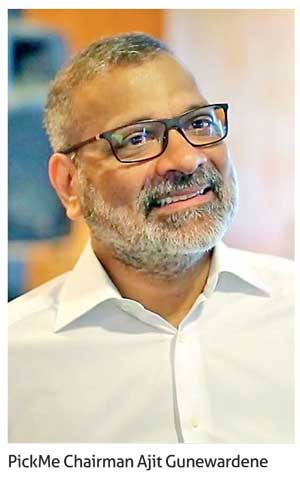 In a strategic move to bring greater benefits for drivers and patrons, homegrown taxi hailing service PickMe reduced its three-wheeler fares to Rs.33 per kilometer, from a previous fare of Rs.35 per kilometer.

The decision was made following a comprehensive study done on the trip patterns of local tuk-tuk (three-wheelers) passengers which brought to light the reason for most taxi-riding grievances of both driver and passenger.

While some passengers needed to get from A to B as soon as possible, others used taxis for more accommodating needs such as to get their shopping done or for sightseeing. Taxi drivers, especially those who felt they had a good chance of being hired more often than not, felt that they were losing an opportunity-cost when they were hired for the later purpose. This is the problem PickMe aims to solve by their new price revision.

"When calculating the new fare, we also considered a driver's opportunity cost -that is the potential amount a driver could earn while he spends his time on a ride than staying idle - and on this account we increased the 'waiting time' fare from Rs.2 per km to Rs.3.50 per km so that a driver would be fairly compensated for the time spent waiting for a passenger while on a hire" said Jiffry Zulfer, Chief Executive Officer of PickMe. "While on the other hand, we wanted passengers who just wanted to get from A to B, to benefit from a more economical fare since these passengers are usually the regular tuk-tuk goers and would certainly enjoy the reduction on their monthly travel costs"

Expressing his views on the price revision PickMe Chairman Ajit Gunewardene said: "At PickMe, we won't rest until we deliver excellence in the eyes of our two sets of customers - the driver and the passenger. With prices much lower than a common metered three-wheeler in the streets now, PickMe is now more affordable and convenient for our users. Drivers will also benefit from the lower fares because when the demand increases there will be less idle time between trips, meaning that the drivers have a better chance in converting their time into income.

"As a true Sri Lanka company, we are well aligned to provide top-notch transpiration solutions to Sri Lankans with our app – a superior product which comes out of a team who understand the market insights like no other. Apart from giving PickMe a competitive edge in the market, this in-depth local understanding and knowledge is what paved the way for a strategic pricing structure that benefits all the stake holders of this business," Gunewardene commented further.

As the largest organized taxi platform in Sri Lanka, with a taxi fleet of over ten thousand three wheelers, mini cars, cars and vans, PickMe currently service the transportation needs of over one million passengers based in the Colombo, Negombo, Kalutara and Kandy regions. Adding to its portfolio of services, PickMe recently debuted its newest feature 'PickMe VIP' which is a fleet of chauffeur-driven luxury cars that cater to premium clients and corporates.