---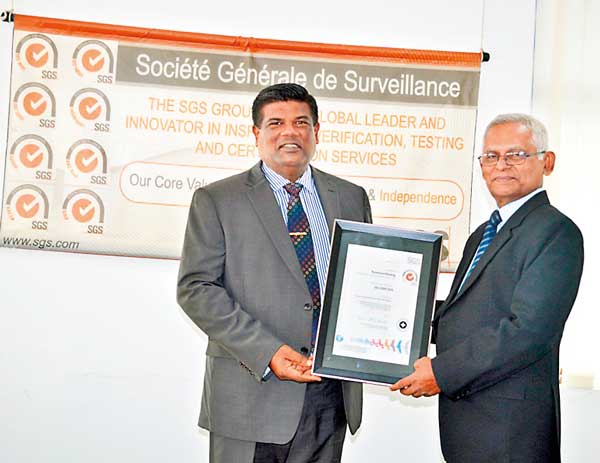 Managing Director of Paramount Packing, Priyanga Perera (L) receiving the award from B. A. Sumanasiri, Business Manager – Certification & Business Enhancement, SGS Lanka (Pvt) Ltd.
Paramount Packing, the pioneer sachet producer in Sri Lanka since 1992, was awarded the ISO 22000:2005 Certification recently.
Paramount Packing which caters to 90 percent of the 5-star hotels and international restaurant chains in Sri Lanka and Maldives is presently equipped with the latest machinery in the world and all their products are hygienically machine packed namely sugar, milk powder, creamer, pepper, salt, tea, coffee, chocolate, malt, chili flakes, oregano, toothpicks, straws etc., according to international standards.
"Our products are designed and printed with logos by our mother company Paramount Print Pack (Pvt) Ltd. which caters menus, brochures, annual reports etc., to many leading hotels in Sri Lanka.
"Presently all our products are hygienically machine packed in Food Grade Paper and the printing of logos on Sachets are carried out with vegetable oil based ink on par with international food standards. All our food items are purchased only from leading certified suppliers. With our automated state-of-the-art machinery we are in a position to avoid delays with quick deliveries to our clientele of over 500 spread on the length and breadth of the country," said Managing Director Priyanga Perera.