---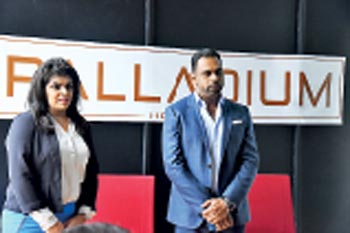 A one-stop-shop for hospitality consulting in Sri Lanka and the Maldives was launched recently by Palladium Holdings, a locally owned outfit.

"We're a one-stop shop for hospitality. Whether they're hotels, boutique hotels, mixed development projects or restaurants. We provide consultancy for architecture, construction, interior design, operation supplies and equipment, and food," Palladium Holdings Founder and Managing Director Shamrin Mohamed said.

He added that company also sources supplies and equipment from over 150 global partners and plans to use Sri Lanka has a hub for its supply operations in the region.

Mohamed, with 15 years of experience in the construction and hospitality sectors, said that the recent expansion in the Sri Lankan hospitality industry requires consultancy services which could cater to the needs of the largest brands, down to the first-time hotel owners.

He said that Palladium has already provided services for the Anantara and Movenpick global brands which recently entered Sri Lanka, as well as for local brands such as Water's Edge.

"We have already signed several letters of intent to provide consultancy services for global brands," Mohamed added.

He noted that big brands such as Jumeirah and Hard Rock are inquiring about owning or managing properties in Sri Lanka.

Palladium Holdings Head of Sales and Legal Officer Abida Tariq said that the company is also a matchmaker for high net worth individuals looking to invest in projects, hospitality brands, and landowners in Sri Lanka. She said that Palladium maintains a land bank.

Mohamed said that Palladium has a close-knit relationship with both the private sector and public service in Sri Lanka, which would allow it to easily navigate projects through the required process from conception to the commercial operation of projects.