---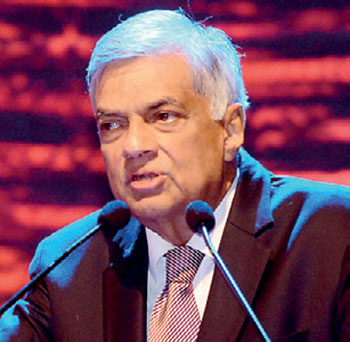 By Yohan Perera
Sri Lanka should celebrate the 150 years of its tea industry with a hard look at the sector in order to make it vibrant, so that it could overcome the challenges running up to 2050, when vast social and economic changes take place in the world, Prime Minister Ranil Wickremesinghe said.

Wickremesinghe made these remarks at the Colombo International Tea Convention, which got underway in Colombo recently, emphasizing on preparing to overcome the challenges that the Sri Lankan tea industry is yet to face.
"You are celebrating 150 years of the tea industry. However, you will have to take a hard look at the industry when the ball is over and think out of the box in order to adopt yourselves to the emerging challenges the tea industry is going to face, especially by the year 2050," he told the tea industry stakeholders.

"Think of the competition that is coming up today. Poland is growing tea, so is Argentina. They are catering to the US market. Think of the new beverages that are emerging. Focus on the success Red Bull has had and most of all think of the demographic changes that are to take place by the year 2050.

Global population will increase by two billion. One has to focus whether supermarkets will remain in 2050. Focus should also be on technology as factories might become small with one single machine. One should take all these into consideration," he said.

Wickremesinghe said the government will have to have a relook at the regional plantation companies. He also said the government will have to look at how family-owned plantation companies could be run.

He also pledged that the government would focus on a tea research institute.

"We wanted to handover the plantations to a young minister and could not think of anyone else other than Minister Navin Dissanayake since he hails from an area where the plantation sector is flourishing; besides his father also handled the sector sometime back. We hope he delivers well like his father did with the Mahaweli," Wickremesinghe added.

Dissanayake said the tea industry has had a revolution lately since it was introduced by the British 150 years ago.

"Those days there were vast plantation companies, which dominated the industry, but today the smallholders account to 73 percent of the industry," he said.

Dissanayake pledged that the government would come up with a new model to develop the tea industry. Colombo Tea Traders' Association Chairman Anselm Perera said, "The Sri Lankan tea industrialists will immensely benefit from this year's convention. You will go home with much knowledge and new friends."