---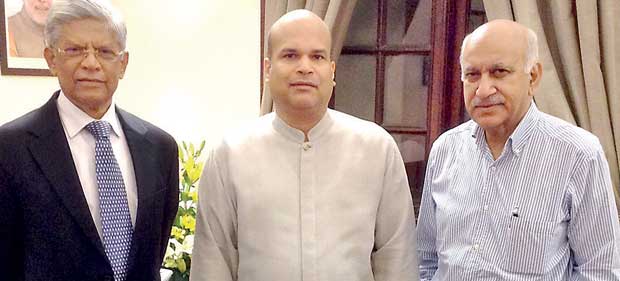 Milinda Moragoda Founder, Pathfinder Foundation (PF) together with Bernard Goonetilleke, Chairman of the Foundation visited New Delhi to hold discussions on matters connected with the Centre for Indo-Lanka Initiatives (CILI) of the Pathfinder Foundation.
During the visit, they had meetings with M.J. Akbar, State Minister of External Affairs, Ajit Doval, National Security Advisor to the Government of India, and Dr. S. Jaishankar, Secretary Ministry of External Affairs. Minister Akbar visited Colombo in 2014 to deliver the first Jawaharlal Nehru Oration organized by PF.
Moragoda also met with the heads of several reputed think tanks in New Delhi, i.e. Vivekananda International Foundation (VIF), Institute for Defence Studies and Analyses (IDSA), United Services Institution of India (USI), India Foundation (IF), and Carnegie India (CI). Meetings were also held with senior private sector and media leaders.
The Centre for Indo-Lanka Initiatives has active MOUs with VIF, IDSA and USI. The Centre was established by the pathfinder Foundation 2015 to bring about a special focus on promoting bilateral ties, undertaking research and developing Track II relationships between India and Sri Lanka. Since its inauguration, the Centre has successfully arranged conferences and participated in several initiatives aimed at fostering the relationship between the two countries.