---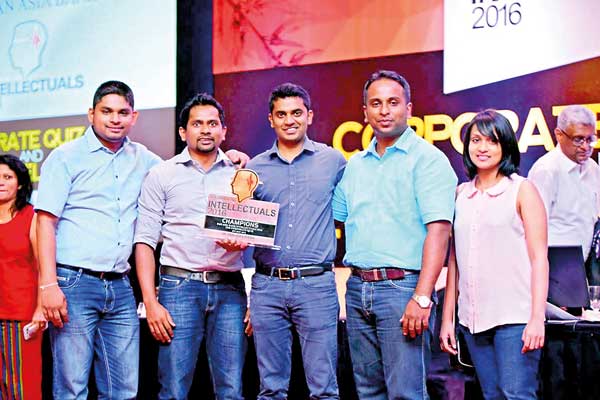 Champions of the quiz competition - Treasury Department
Pan Asia Bank Corporation (PABC) held its inter-branch/department quiz competition named 'Pan Asia Intellectuals 2016' recently at the Golden Rose Hotel, Boralesgamuwa.

More than 100 teams representing branches and departments participated in this event and after an intense battle for intellectual supremacy, the bank's Treasury Department team emerged as the champions while Internal Audit and Nugegoda branch teams claimed the second and third places, respectively.

Pan Asia Intellectuals 2016 was followed by the New Year celebrations organised specially for the bank's staff. Subsequent to the quiz competition, Pan Asia Bank also held a special Avurudu celebration organised for the bank's staff. This grand event, which was held with the participation of over 700 enthusiastic staff members, was a true reflection of the bank's commitment to sharing the spirit of the Sinhala and Hindu New Year with its valued staff members.
This year's event had many exciting Avurudu games and cultural activities to engage all staff, making it a truly memorable event.
Both these events were organised by the Human Resources Department with the intention of fostering team spirit, enhancing knowledge and celebrating unity amongst the team members.
These events were held under the patronage of Pan Asia Bank CEO Dimantha Senevirathne and included several members of the corporate management.