---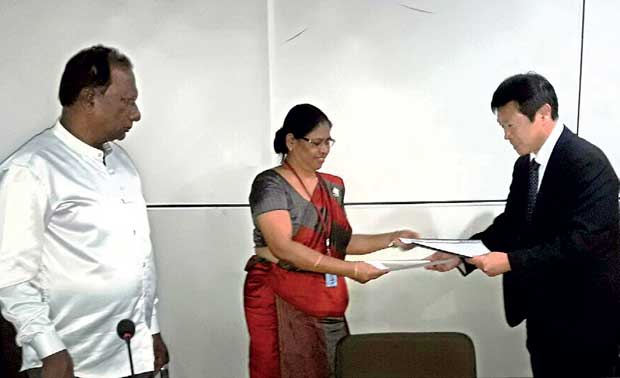 This moment was witnessed by Western Province Health Minister Sunil Laal Mendis, Western Provincial Council Secretary, Engineering and Planning Director and Omegaa Johkasou Engineering Lanka (Pvt.) Ltd Directors Eugi Subaki, Prabath Dahanayake, Manjula Solangaarchchi and Amith Kalupahana
Omegaa Johkasou Engineering Lanka (Pvt.) Ltd, known for its life-enhancing products, entered into a cooperative agreement (MoU) with the Western Provincial Council Health Ministry recently.
There, it undertook to analyse the waste management systems of the hospitals in the Western Province in order to apply some solution. This offer was brought to them on account of its reputation as a trustworthy, innovative company in the field of waste management in
the country.
This moment was witnessed by Western Province Health Minister Sunil Laal Mendis, Western Provincial Council Secretary, Engineering and Planning Director and Omegaa Johkasou Engineering Lanka (Pvt.) Ltd Directors Eugi Subaki, Prabath Dahanayake, Manjula Solangaarchchi and Amith Kalupahana.
The awarded Omegaa Johkasou Engineering Lanka (Pvt.) Ltd has introduced a most optimal water treatment plant that purifies waste water properly by using bacteria
for houses.
This process makes soiled water reusable. This waste water treatment plant is manufactured integrating the highest strains of technology and comes with a warranty of 25 years with an expected life span of about 50 years. This consumes only a little space and you get the support of the Japanese mechanics for a free installation. The company is committed to an excellent post-sale service.