---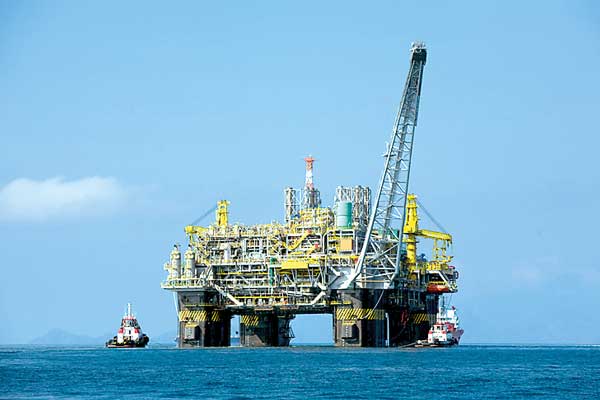 AFP- Oil surged more than five percent in Asia yesterday, a day after tanking towards 13-year lows and following a report suggesting the OPEC producers' club was open to working towards cutting output to stabilise volatile crude markets.

Prices for both key contracts dived Thursday in line with a sell-off across on markets worldwide as traders grow increasingly concerned about the state of the global economy, and the possibility of a return to recession.

But traders were given a glimmer of hope by a report in the Wall Street Journal quoting United Arab Emirates energy minister Suhail Al Mazrouei as saying OPEC was willing to cooperate with other producers on making cuts.
However, analysts moved to temper the optimism, saying concrete action is needed before such speculation becomes a reliable price driver and with a stubborn global supply glut hammering the commodity, any price rally is unlikely to last.

Still, prices surged more than five percent before easing slightly in the afternoon.
At around 0640 GMT the US benchmark West Texas Intermediate (WTI) for delivery in March was up $1.22, or 4.65 percent, at $27.43 and Brent crude for April advanced $1.34, or 4.46 percent, to $31.40 a barrel.

WTI settled at $26.21 a barrel on Thursday, its lowest close since May 2003, and breaching bottoms set in January. The contract is down around 11 percent for the week.
"After WTI reached a fresh 12-year low on Thursday, this triggered some kind of bargain-hunting because there is no real news driving the slump except for the oversupply issue," said Bernard Aw, market strategist at IG Markets Singapore.
He added that the UAE minister's comments would have little impact on prices for the long term unless big players in the Organization of the Petroleum Exporting Countries such as kingpin Saudi Arabia and Iraq make firm commitments about trimming output.

"Without Saudi Arabia and Iraq, there's not much the other players can do," he said.
"What's unsaid here is that every oil-producing nation around the world thinks that other oil-producing nations should cut supply," said Michael McCarthy, chief market strategist at CMC Markets in Australia.

"Until we hear an indication from a country or from a large producer that they are prepared to cut their own production, I would severely discount these comments," he told AFP by telephone from Sydney.
Low oil prices have hammered poorer oil producers such as Venezuela and Nigeria, but OPEC has refused to cut output as it looks to maintain market share in the face of competition from US shale.