---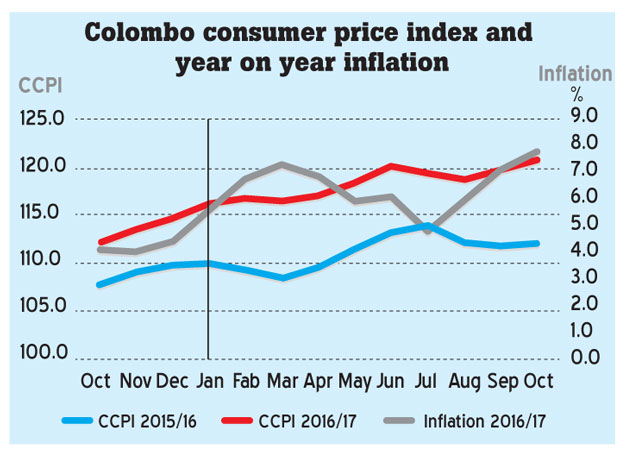 Sri Lanka's consumer prices measured by the Colombo Consumer Price Index (CCPI) rose to 7.8 percent in October from a year ago, accelerating from 7.1 percent in September, pushing the country's inflation rate to near disturbingly higher levels.

October inflation is the highest since January 2015 when the base year of the index was changed.
A near double digit increase in prices within a short span of 12 months indicates that people have been made poor by Rs.10 for every Rs.100 they have earned.

Sri Lanka's inflation has been rising since July largely driven by food prices due to supply side interruptions caused by prolonged drought and floods.

Non-food inflation also ticked up quite intensely in October as the increase in L.P gas prices in September started burning the monthly earnings of the people on top of the higher food prices.
Meanwhile, the increase in so called 'core prices', which measure the inflation using less volatile items barring food and energy, rose by 5.8 percent in October from a year ago, easing from 6.0 percent a month ago.
On a Month-on-Month (MoM) basis the food price index accelerated to 2.6 percent in October from 1.6 percent in September as the prices of rice remained elevated.

In the food basket, the price of coconut rose the highest, which was followed by vegetable prices.
The prices of chicken, fish, dry fish and eggs showed some easing.

Meanwhile, on a year-on-year basis the food prices rose by 12.6 percent in October, a substantial increase from 10.4 percent in September.

Back to back double digit food price increases should worry the Central Bank and the policy makers as it directly impacts the wellbeing of the people.

The earnings of retail sector companies also demonstrate the shrinking consumption pattern as the economy is seen slowing down in response to the monetary and fiscal tightening measures taken by the authorities earlier this year.

Meanwhile, the non-food prices rose by 0.3 percent on MoM basis in October mainly in response to the full effect of the L.P gas price increase in late September.

The prices charged by restaurants and hotels have risen sharply as such establishments increase the prices of their food and beverage products in response to the gas price increase and the higher food prices prevailing in the economy.

At a time when the government attempts to tax people more under the new Inland Revenue Act, which intends to capture the toddy tapper in a remote village to the top professional in Colombo under its net, the sky rocketing prices in the economy could well become a double whammy. Under these circumstances, any more fiscal loosening from the upcoming budget could push up the prices above 10 percent as the approaching festive season and the weaker rupee can anyway send prices higher, economists say.