---
Elephant House's popular Wild Elephant has been reintroduced to the local market in a whole new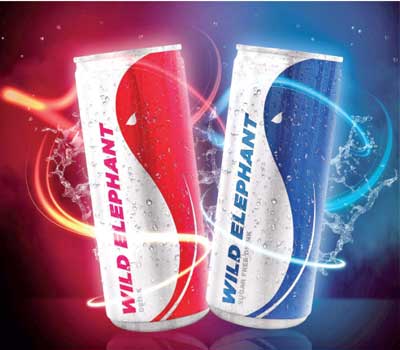 way!

Now with a 'new and improved' formula and packaging, the revitalised Wild Elephant is truly 'ready for anything', with a modern and stylish and highly iconic, can design that perfectly captures the mood of today's vibrant and confident youth.

In fact, reintroduced in two variants, original Wild Elephant in a red can and sugar-free Wild Elephant in a blue can, this much-loved beverage brand stays true to its popular, original flavour with the added benefit of a more refined taste. Also introduced to the Wild Elephant range, an absolutely 0 percent sugar alternative, to meet the needs of today's diet-conscious youth.

With an islandwide roll-out starting from August 1, 2016, with grocery stores, corner shops, supermarkets, restaurants, clubs and even pubs and bars soon to carry stocks, Wild Elephant has been priced at a highly competitive Rs.200 for both the original Wild Elephant as well as its sugar-free variant.

Commenting on Wild Elephant's exciting overhaul, Ceylon Cold Stores Head of Beverages/John Keells Holdings Vice President Daminda Gamlath said, "With its new look and feel, Wild Elephant is now even more in touch with the moods and attitudes of today's young people, all without sacrificing its refreshing and distinct flavour. Even the 'Sugar Free' variant does not sacrifice on taste, rather adding the much sought-after benefit of a superior flavour with absolutely 0 percent sugar. Armed with these exciting new elements, Wild Elephant will undoubtedly be an even greater success going forward."

Known to be 'Ready for Anything', Wild Elephant empowers consumers with the guts and confidence to be prepared for everything that life throws at them, truly allowing them to step up their game and win in any situation.