---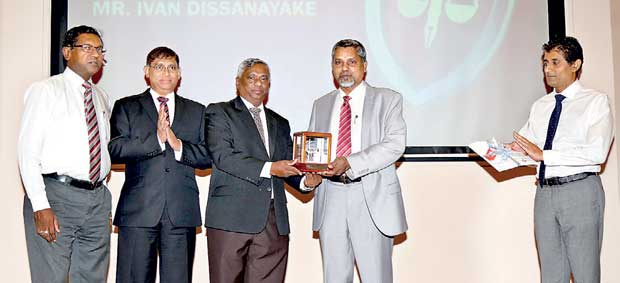 CA Sri Lanka President Lasantha Wickremasinghe presenting a token to new Inland Revenue Commissioner General Ivan Dissanayake. Also in the picture are CA Sri Lanka CEO Aruna Alwis, Vice President Jagath Perera and Chairman of the Faculty of Taxation Duminda Hulangamuwa
The Institute of Chartered Accountants of Sri Lanka (CA Sri Lanka) felicitated the new Inland Revenue (IR) Commissioner General Ivan Dissanayake at a ceremony held recently.

Addressing the event, Dissanayake said that Chartered Accountants canplay a more significant role by way of being intermediaries who support the Inland Revenue's efforts to raise government revenue required to provide public services like health care and education facilities which in turn ensures the well-being of the community as a whole.

"As professionals who assist the tax payers understand and comply with their tax obligation, you are the professionals who can bridge the gap between tax payers and the inland revenue and we rely upon you as chartered accountants, because it is you who can encourage voluntary compliance so the leakage of the revenue in the form of tax evasion can be minimized," he said during his speech at the ceremony.

Dissanayake also unveiled a plan where he hoped to collect Rs. 1 trillion by 2019/2020 through the expansion of the tax payer base in the country, while also taking steps to adjust indirect and direct tax ratios. "The ongoing RAMIS project will be an immensestrength in achieving this target as the RAMIS project enables the IR information system to be integrated with more than 30 interface agencies through which IR can get required information to bring new tax payers in to the system," he said.
Congratulating. Dissanayake on his appointed, President of CA Sri Lanka Lasantha Wickremasinghe said that the mutual assistance both organisations can extend to each other is vast and diverse which in turn will help strengthen the country's position while also enhancing its economy. He recalled how both CA Sri Lanka and the Inland Revenue have worked together in collaboration to enhance and improve the taxation structure of Sri Lanka.

"Any organisation's true success always relies on the leadership and the hard work of its staff, and with your vast experience, including foreign training, I am most certain you will be the visionary leadership who will possess the ability to drive the Inland Revenue to greater heights, while ensuring a more proactive tax system in the country," Wickremasinghe added.
Chairman of the CA Sri Lanka Faculty of Taxation Duminda Hulangamuwa said that the relationship between CA Sri Lanka and the IR has been very strong over years, and continues to strengthen on a daily basis. "Dissanayake who I have personally associated for a period of 20 years or more has been one of the few offices at the department who have taken decisions fearlessly, and he has been decisive in whatever he does and also independent," he said.

During the felicitation ceremony, CA Sri Lanka also launched the Transfer Pricing Guideline publication for the benefit of its members. The guide will help maintain uniformity and the professional outlook when issuing the relevant certificates.