---
Regnis (Lanka) PLC, Sri Lanka's leading manufacturer of a range of refrigerators and washing machines under the Singer and Sisil brands recently announced the appointment of Neminda Karunaratne as an Alternate Director and Eraj Fernando as Company Secretary to their Board.
Neminda serves as the Human Resource Director of Singer (Sri Lanka), a post he was appointed to in January 2016.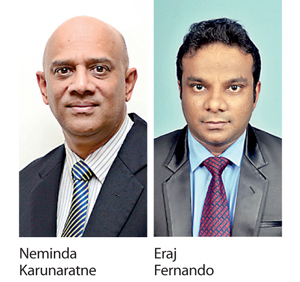 Neminda joined Singer (Sri Lanka) PLC as a Trainee Executive in September 1991. He has successfully risen in ranks throughout his tenure holding various management positions within the company including District Manager in April 1992, Assistant Training Manager in May 1997, Human Resources Development Manager in January 2006 and Manager, Human Resources in July 2006 and Manager for Human Resources at Regnis (Lanka) since October 2012. Neminda holds an MBA from the University of Southern Queensland and a National Diploma in Human Resource Management from the Institute of Personnel Management in Sri Lanka. Eraj Fernando is currently the Group Factory Controller, Regnis Lanka a post he was appointed to in December 2015.
Eraj joined Singer (Sri Lanka) PLC as an Accountant in December 2006 after completing his training at Ernst & Young.
In June 2011, Eraj joined Singer Finance (Lanka) PLC as Manager, Financial Reporting and was later promoted as Senior Manager, Compliance & Reporting.
Eraj is an Associate member of the Institute of Chartered Accountants of Sri Lanka and the Institute of Certified Management Accountants of Sri Lanka.