---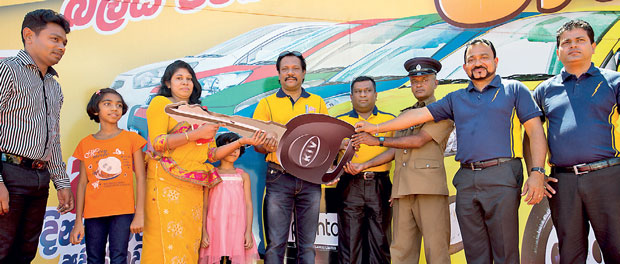 Nestomalt, Sri Lanka's leading beverage brand for over five decades, announced the third lucky winner of its 'Ran Ratha Wasana' raffle draw, B.W.C.K. Jayasekara from Madawella, Haguranketha.
The campaign has already attracted over 200,000 entries, from which five lucky winners win brand-new Kia Picanto cars.
The promotion still offers two more lucky winners a chance at winning the grand prize. The consumers can be part of the raffle draw by submitting the top flap of a Nestomalt 400g Bag-in-Box or Super Pack with their name and address marked to 'Nestomalt Ran Ratha Wasana' PO Box 1720. The promotion, conducted by Nestomalt, is validated by the Revenue Ministry.
"Nestomalt, with the perfect blend of power, strength and energy, has secured the hearts and minds of Sri Lankan consumers through the support of multiple promotions and activations over the years. Our 'Ran Ratha Wasana' campaign has given us the opportunity to reward our consumers for their loyalty to the brand and their enthusiasm to be part of this exciting promotion," said Nestlé Beverages Vice President Norman Kannangara.
The 'Ran Ratha Wasana' campaign was launched in tandem with the Nestomalt 'Ran Wan' Sri Lanka campaign, which inspires families all over the island to achieve success together and power the nation with the energy of Nestomalt.