---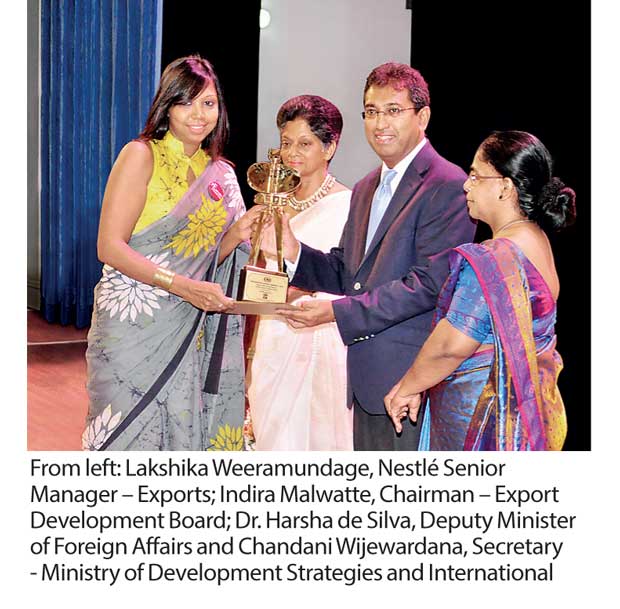 Nestlé has won 'Highest Value Added Exporter' in the Coconut Kernel Product category at the recent Presidential Export Awards.

This marks the sixth Presidential Export Award for the company, in recognition of its strong contribution to national exports, and efforts to create sustainable livelihoods for local coconut growers and farm workers.

Nestlé Lanka is one of the world's largest exporters of coconut milk powder. The product is exported to over 50 countries, and is sold locally under the Maggi brand. It is manufactured in Nestlé's state-of-the-art factory in Kurunegala, where the company procures around 80 million Sri Lankan coconuts every year; providing a livelihood to close to 6,000 local coconut farming families.

José Roldán, Vice President - Supply Chain at Nestlé said, "We are honoured to accept this award in recognition of our success in exporting Sri Lankan coconut milk powder. We pioneered the manufacturing of coconut milk powder in the 1980s and have continued to invest in the local coconut industry since. Our efforts have made Sri Lankan coconut milk powder one of the most sought after in the world; offering the best taste, highest quality and minimal environmental impact."

To help secure coconut cultivation and rural livelihoods, Nestlé launched the Nestlé Coconut Plan in late 2016, in collaboration with the Coconut Cultivation Board. 2,000 coconut farming families received 10,000 high yield coconut plantlets, and benefit from comprehensive training programmes as well as model farms to help benchmark best practices. The Plan encourages coconut cultivation by commercial farmers as well as home growers, both within the coconut triangle and outside, in areas identified as high potential for successful coconut cultivation.

More recently, Nestlé initiated a significant investment to enhance its manufacturing capacity for coconut milk powder to support demand, in consideration of the high growth potential in both local and export markets.

Shivani Hegde, Nestlé Managing Director said: "We believe our purpose as a company is enhancing quality of life and contributing to a healthier future. We are honoured and most proud to be recognised for our strong exports performance, and for our work in investing in projects that make a difference to our farmers, their families and workers. By supporting them we build stronger communities, which in turn help to ensure the long term security of the industry."