---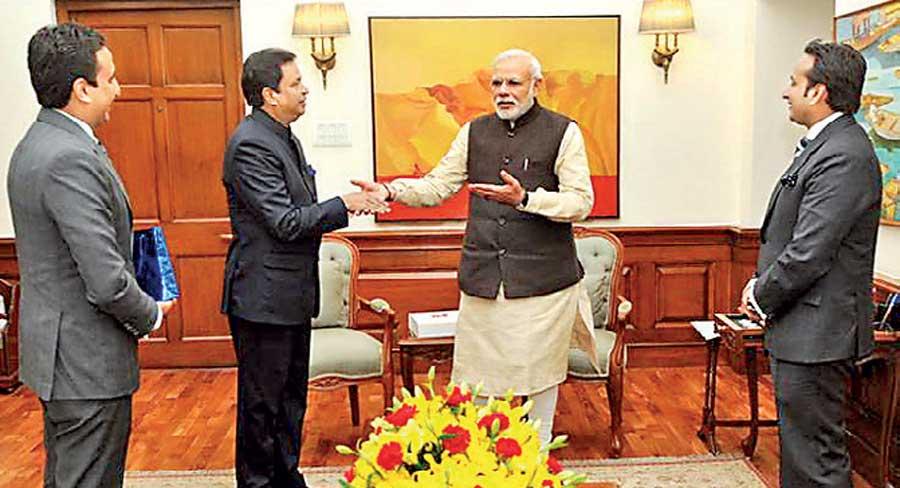 CG Corp Global Chairman Dr. Binod Chaudhary in discussion with Indian Prime Minister Narendra Modi at a prior occasion in the presence of CG Corp Global Directors Rahul Chaudhary and Varun Chaudhary
Nepali billionaire and CG Corp Global Chairman Dr. Binod Chaudhary, whose business interests in Sri Lanka span a segment of pioneering leisure offerings, believes strongly that India's Prime Minister Narendra Modi, in his second term, will be able to usher in new developments not just for India but for the entire region.

Chaudhary, who was invited to Prime Minister Modi's swearing in ceremony held on May 30, at Rashtrapati Bhavan, New Delhi, has always maintained positive sentiments for the region, investing during periods of abject uncertainty, as he did when he invested in Sri Lanka's Taj Samudra during the war.

With Modi's significantly larger mandate instilling immense confidence on his ability to accomplish not just his goals for India but for the entire South Asian region, Chaudhary believes Sri Lanka will benefit even more from this renewed leadership in India. Looking back on the aftermath for the economy post-Easter attacks of April 2019, Chaudhary, who has always displayed immense love for Sri Lanka and continues to retain an infallible confidence in the country, recalls investing in Sri Lanka at a time when Colombo was akin to a war zone.
"Business was at an all-time ebb as was the economy. But I've always had a positive feeling about Sri Lanka and the friends I have from this country have nurtured that feeling in me. I know that the potential Sri Lanka has is just immense."

He opined that he wasn't wrong with his debut investment into the hospitality sector for CG Hospitality with Taj Samudra, back in 1998 and subsequent investments over the next 20 years; "and I'm not wrong about the next wave of growth the country will see in the months and years to come."

Chaudhary, who heads more than 130 companies in diverse sectors, including financial services, energy, education, hospitality and real estate, spanning 30 countries and four continents, added that he has always been excited about taking calculated risks.

"I was very optimistic when I brought CG Corp into Sri Lanka and I've been able to work with some very visionary partners from then on," he said citing Jetwing, Ceylon Hotels Corporations and Hatton Plantations.

CG Hospitality Lanka, headed by Tilak de Zoysa, now has five more properties under its portfolio of Ekho Zinc Journey, in addition to the partnership Chaudhary mooted with Jetwing Hotels.

The group currently holds a formidable portfolio of 125 hotels in 12 countries through 90 destinations and 6500 keys, pioneering cutting-edge concepts across hotels, resorts, residences and spas in Asia, the Middle East and Africa.